It's 5pm – rush hour in downtown Hanoi. Swiss national Olivier Barbey and his wife ride two bikes carrying their two sons to Bích Câu Temple for their evening martial arts club.
 After three years of living in Vietnam, they are used to driving bikes on crowded streets.
Three times per week, they teach Sơn Long Quyền Thuật martial arts here to some 60 children.
The students flock in the temple after their studying time. The lesson starts.
Barbey guides a group while his elder son and wife teach two other lower-level groups. The students all join in with enthusiasm and excitement. Sweat runs down their bodies though it is a rather cool late autumn afternoon.
The teachers focus on training and patiently correct the students' postures.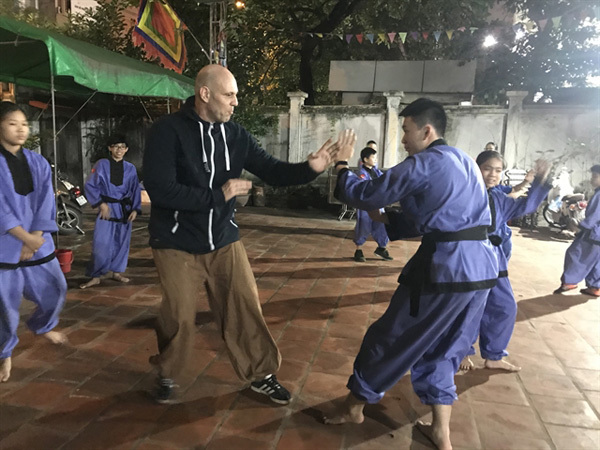 Olivier Barbey (left) practises with a student. VNS Photo Le Huong
All learners, big and small, cannot hide their excitement in the lesson.
Some parents gather outside to chat while watching the training session.
This has been a normal scene at the temple for the past three years since the Barbey family moved to Vietnam to teach the Vietnamese traditional martial art called Sơn Long Quyền Thuật taught by a Vietnamese master in France over a half-century ago.
"I'm surprised to know that he is a foreigner and practises Vietnamese traditional martial arts," learner Pham Gia Han, 11, who has joined the class for more than a year, told Việt Nam News.
"The teachers are so enthusiastic in training," she said. "They have taught me patience, resourcefulness and agility."
When asked why he decided to leave his comfortable life in Switzerland to bring his family to Vietnam to train martial arts to Vietnamese people, Barber gave a warm smile.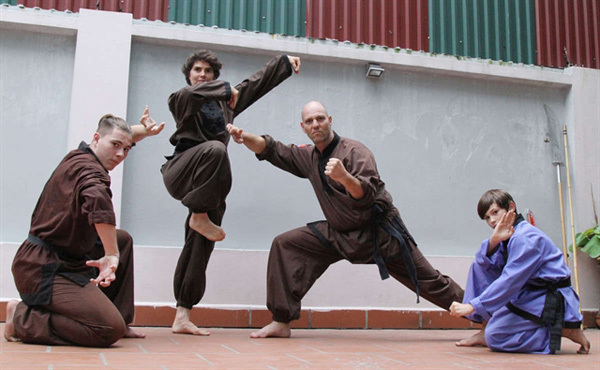 Olivier and his wife, Sarah, and two children are living in Vietnam to teach Sơn Long Quyền Thuật to Vietnamese people. Photo khoahocdoisong.vn
"We like Vietnam very much," he said. "When my sư phụ [master] died, we discussed with all my martial arts brothers [in Europe] and we think it's important for Sơn Long Quyền Thuật to have a school here in its home place - Vietnam."
"Sometimes we have some difficulties in daily life due to differences in language, culture and custom. But gradually, we get used to the life here," he said.
Barbey revealed that he liked fighting and boxing when he was young. The first time he saw Asian martial arts was in kung fu films, where people fighting with hands and legs as well. At that time, many people talked about Vietnam, with poor people but strong determination to fight foreign invaders.
"I studied a lot about Vietnam," he said. "I like the fighting spirit of the Vietnamese people. So when I found master Nguyen Duc Moc, I found what I really want."
Barbey said he can learn a lot from Vietnamese martial arts.
"You can compare the life and the fight. When you have a problem, you have to find out a solution. When someone fights you, you can get out or resist. The most important thing with võ [martial arts] is that you should never stop, not give up despite difficulties, and try to continue."
Sơn Long Quyền Thuật, according to Barbey, teaches people to lead a virtuous life and not to use violence against poor and weak people, only for good reasons to help people. The main principle of the school is defending with high accuracy and almost never attacking.
"The school changed my life since I practised it," he said. "Before I was a coward guy, when I practise it little by little, I became more courageous. I met my love at the same school in Paris."
"We are very lucky to have many friends here, who have helped us open clubs here. We have a good French school for my children. We have all we can dream here. We are so happy here," he said.
"For me, master Nguyen Duc Moc was my second father. I lose my father when I was really young. When I met my master, I thought that this is the person I should follow all my life. He didn't speak much. He may look at someone for 10 years before speaking with him/her."
"I was born in Switzerland, I studied Vietnamese martial arts in France, Now I'm in Vietnam to teach it to Vietnamese people. In every country, I find friends and nice places. But in Vietnam, I find a special spirit, a collective spirit that I cannot find anywhere else. This is why we feel so happy here." 
Home away from home
Do Quang Tien, a close friend of Barbey's family, who also acts as the chairman of Sơn Long Quyền Thuật Association in Hanoi, said in the past few years, the school has gathered more and more followers. There are about 130 people practising the school in Vietnam at night clubs and small classes.
Sơn Long Quyền Thuật, Tien said, shares certain gestures like other schools of Vietnamese martial arts. It contains simple gestures that can be more easily applied by foreigners, who are not as flexible as Vietnamese practitioners.
"I highly appreciate what Barbey's family is doing here," Tien said. "Barbey has been realising the dream of his master Nguyen Duc Moc, who wanted to bring back the school to hand down to Vietnamese people and people in his homeland, Bac Ninh.
Barbey family worship master Nguyen Duc Moc in their home in Long Bien District, Hanoi. Photo khoahocdoisong.vn
"Barbey respects his teacher like and even more than Eastern people. That's why I have spared no efforts to help him spread the school since 2017 when he moved here."
Tien said they are trying to find some students with good performance to become trainers.
He also said the movement should be spread to Bac Ninh Province as well.
"I hope the school will further develop in the next two-three years with our determination," he said. "The role of Barbey and his family is very crucial here at this beginning stage. Their disadvantage as foreigners is their own advantage in training. Foreigners practising Vietnamese martial arts would be more inspiring than Vietnamese masters."
Hoang Thien Hai, the father of Hoang Thai Son, one of the first students at the club, said he feels the teachers' enthusiasm in training.
"Besides teaching, they are close to the students, they also teach virtue, which is essential for the children's development," he said. "They have overcome all challenges to get used to life here. I think their efforts have been paid back with more and more people following the school." 
Long history
Vietnamese traditional martial arts have been practised throughout the country for thousands of years to help enhance people's strength to fight invaders and wild animals. There have been various schools in the north, central and the south with different features. Sơn Long Quyền Thuật was found by master Nguyen Duc Moc in 1913 in today's Bac Ninh Province.
Moc's grandfather joined the army of patriot Hoang Hoa Tham, who led the Yen The Uprising against French invaders between 1885 and 1913.
When the Second World War occurred, master Moc joined the French army to fight in Africa before settling down in France. In 1957, he hosted training Sơn Long Quyền Thuật School in Paris and registered the school in France with the name Vietnam Martial Arts Federation in France.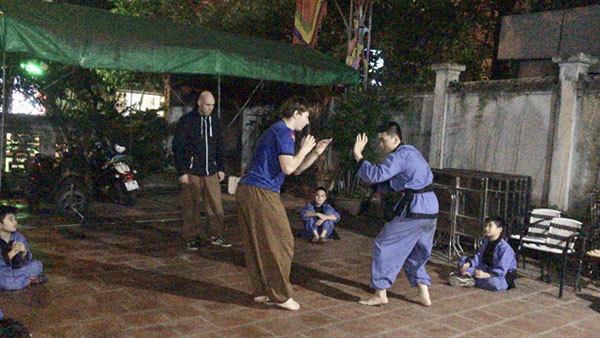 Arthur Barbey, whose name is Đức in Vietnamese (left), the eldest son of Olivier Barbey, at a training session. VNS Photo Le Huong
During the American War, master Moc and his students joined various events to protest the war. He and his students protected the Vietnamese delegation during the historic Paris conference between May 1968 and January 1973.
He died in Paris in 2009 at 96. Olivier Barbey was chosen to lead the school in France when master Moc passed away, who then decided to bring the school back to Vietnam as his master wished.
In 2015, the World Federation of Vietnam Vo Co Truyen was established in Hanoi but not till November 2017 did Sơn Long Quyền Thuật school have a branch in Hanoi. VNS
Le Huong & Ho Hoang

Traditional Vietnamese martial arts have a variety of schools. Nowadays, they are becoming more and more popular to foreign learners.  

On the side of the Day river, Du Xa Thuong village in Hanoi's Ung Hoa district is home to a famous traditional martial art, Thien Mon Dao, which first appeared during the dynasty of King Dinh Tien Hoang (968-979).