Asian Games silver medallist Trinh Van Vinh has been banned for four years by the International Weightlifting Federation (IWF) because of a doping violation.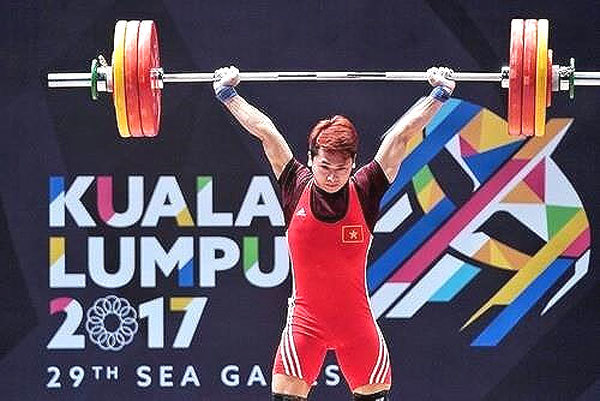 2017 world champion Trinh Van Vinh has been banned four years by the International Weightlifting Federation after testing positive for forbidden substances. — Photo tienphong.vn
The Viet Nam Weightlifting Federation on Monday received the news from the IWF, which said Vinh would be out of all competitions locally and internationally until the end of February 2023 and would be fined US$5,000.
In February, Vietnam's weightlifting community was shocked when the 2017 world champion in the men's 61kg category tested positive for exogenous testosterone and at least one forbidden anabolic agent.
The doping test was conducted when Vinh was competing at the National Games in November 2018. Three months earlier, he tested negative at the Asian Games where he earned a silver.
The decorated weightlifter said he took medicines for his back pain without asking the team's coaches and doctors. He did not remember what the medicine was and did not know if it included forbidden agents.
Vinh declined to have his B sample tested because it would have cost $3,000.
Vietnamese woman weightlifter Nguyen Thi Phuong Thanh also was banned from activities until the end of September 2022 and fined $5,000 for same problem.
Viet Nam Weightlifting Federation General Secretary Do Dinh Khang said that if the athletes want to be allowed to compete again, they would have to inform the IWF and submit to random testing during their bans. If they commit more violations, stricter punishments will be given.
VNS