The International Free Hugs Day 2019 (IFHD) was held at Ha Noi Indochina Plaza in July 28 with participation of hundreds of volunteers.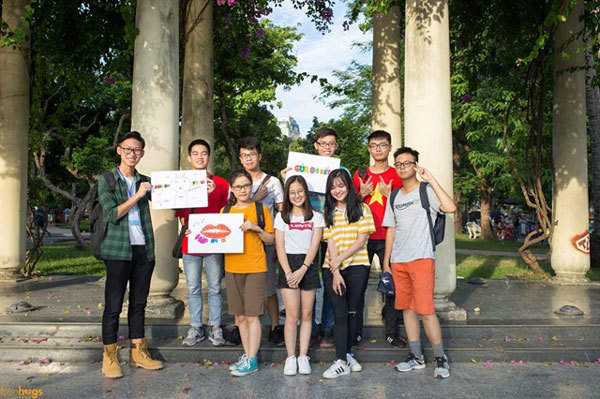 Hundreds of young people from high schools, colleges and universities around Hanoi participated in International Free Hug Day 2018. — Photo from the Facebook page Free Hugs Hanoi
This year, the event is themed 'View Yourself From Another Perspective', giving an opportunity for people to receive intimate hugs from others to convey a message of love and friendliness.
"We want to help young people to arouse the connection, love for the surrounding community through a small but meaningful action – hugs," said Bach Thi Bach Lien, head of the organisers.
"Plus, exchanging and expressing feelings like hugs is still seen indifferently in Vietnam which creates an invisible gap between people."
This year, IFHD will focus small gestures and behaviours to connect people in a powerful way, as the modern technology-driven world can make people forget how to share emotions and become suspicious when opening their hearts, according to Lien.
The main activities will include a flashmob dance, music show, photo exhibition and group games. The music show will feature bands from Chu Van An High School, Nhan Chinh High School and Luong The Vinh High School in Hanoi.
Indie band Sweap are also expected to perform.
At the event, young people will also have a chance to attend a talk show by guest speaker Le Hoang Dung, director of Halo Education Counseling Company.
The Free Hugs Campaign was initiated in 2004 by Juan Mann in Australia. The event has spread to more than 80 countries, including Vietnam, which has hosted the event annually since 2014.
It was held in HCM City last weekend.
VNS