A businessman opens a free library for everyone, especially children, who loves reading and learning English.
Opened in 2020, Mia Bookhouse has become a familiar address of many bookworms every Saturday and Sunday morning, at No. 2C4, alley 5/629 Kim Ma Street, Ba Dinh District. 
Passion for books and children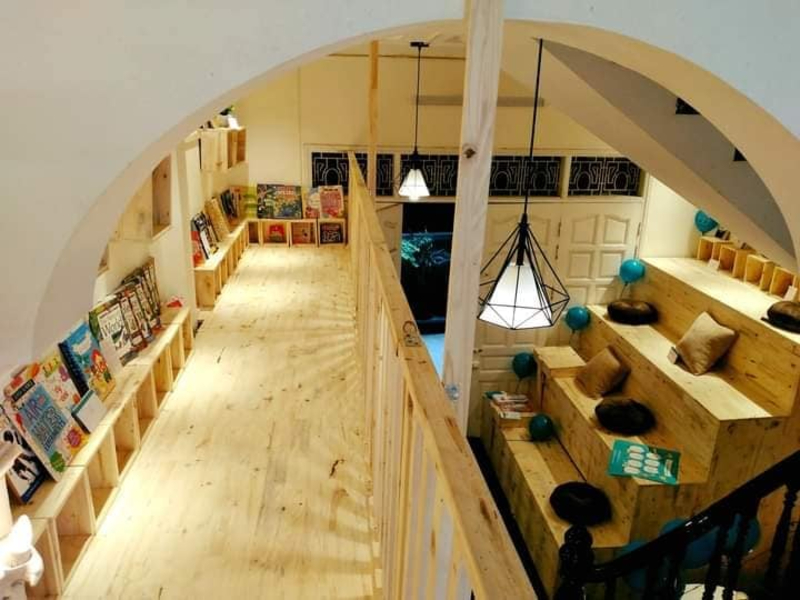 The space for free book reading. Photo: Mia Bookhouse
Mia Bookhouse is a library model that Nguyen Thanh Trung, director of an English center followed, being inspired by his six-year-old daughter named Mia. Every night, he reads books and tells stories for her, in both Vietnamese and English. For three years now, Mia can communicate in both languages thanks to her father's care.
"Creating a habit of reading for children from a young age, especially under six years old, is very important. It will bring a lot of benefits for their language development, creativity and imagination," he said. 
With a passion for reading and learning languages since a kid, Trung has collected thousands of books through years living in Germany and Australia and traveling to more than 50 countries around the world.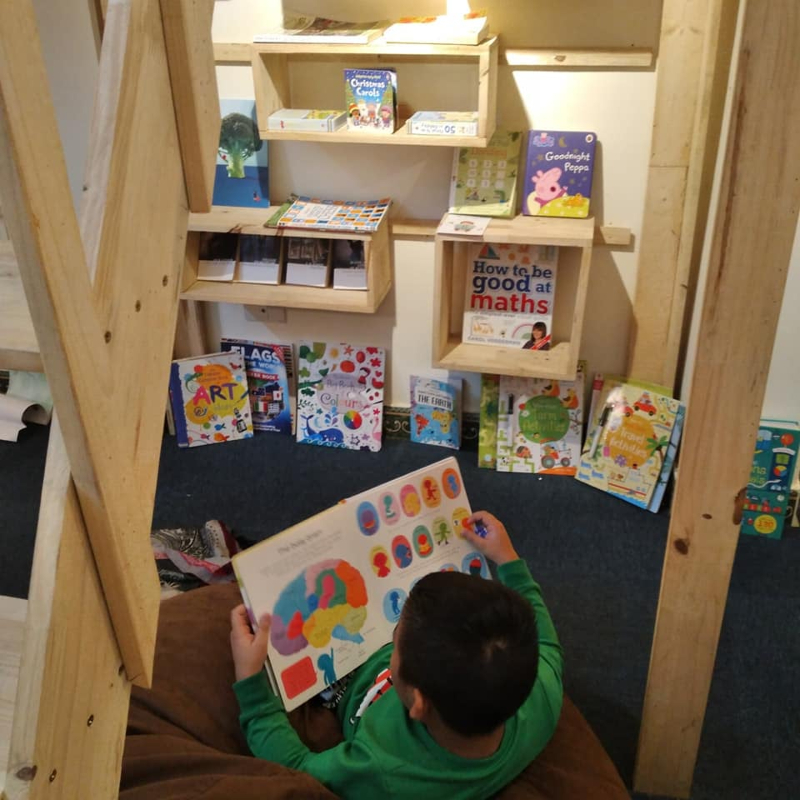 Trung' s the owner of the Mia Bookhouse realized English books in Vietnam are either scarce or rather expensive and not everyone could afford. This is the reason why he decided to open up a free English book library for children. Photo: 

Mia 

Bookhouse
After returning to Vietnam, Trung realized English books in Vietnam are either scarce or rather expensive and not everyone could afford.
Moreover, many parents do not know which book will be suitable for their children and lack parenting skills to guide them how to read English books. Book resources are not abundant either.
Meanwhile, Trung has a lot of books so he had an idea to open a free book house, aiming to spread the love of books to children and give them an opportunity to read and practice foreign language skills.
Interesting multiple-language library
There are over 2,000 book titles at Mia Bookhouse, including a half in Vietnamese language and the other half, about 1,000, in English and some others in German, Chinese, and French.
Most of them are children's books with eye-catching and funny images, helping them easily explore the colorful world. Trung cataloged his books in different areas with the expectation of providing children with interesting and useful reading experiences.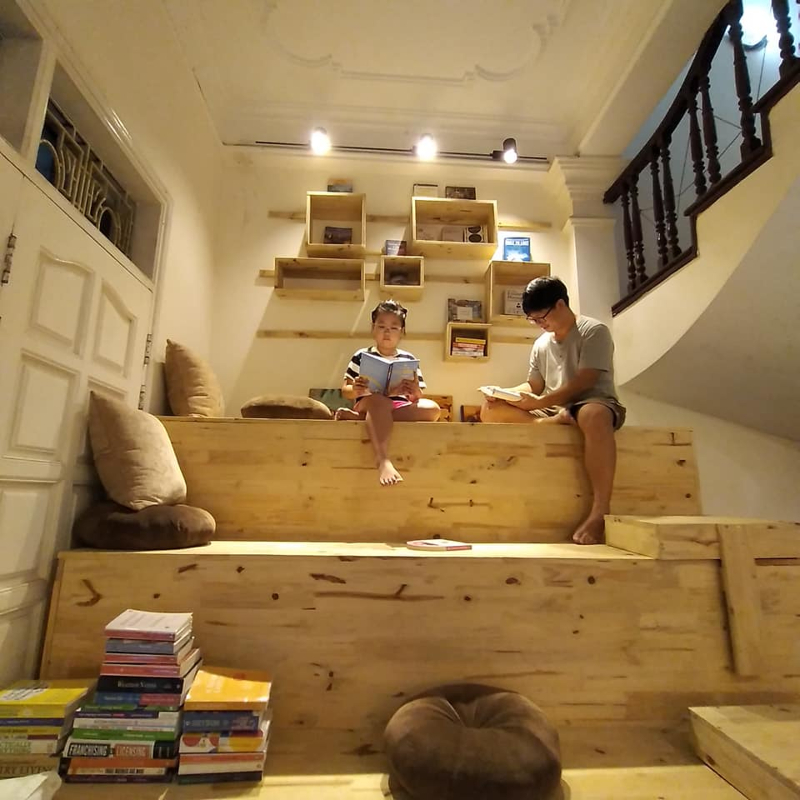 The books here are in Vietnamese, English and some others in German, Chinese, and French. Photo: 

Mia 

Bookhouse
The library was open with the aim of providing a source of English books for children at first, according to Trung.
But then, he sees that it could also be useful for older people for which more book genres such as literature, history, science, economics, photography, as well as student textbooks have also been added.
Different from other bookstores and libraries, Mia Bookhouse is designed to be friendly with the environment and children.
The book-house's floor, stairs and furniture are made of natural wood. The bookshelves also have box-shaped design and the seats are wood stairs, allowing children to comfortably sit and read books everywhere they want.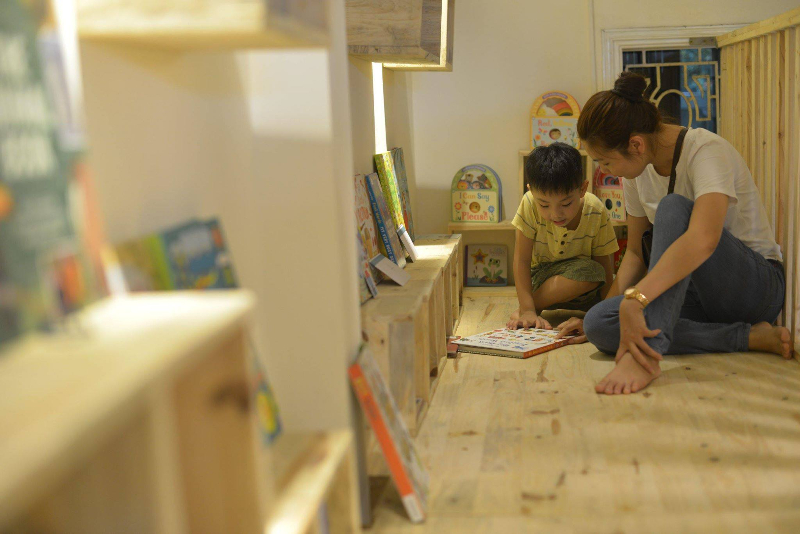 A cure friendly interior decoration at the library that allow children to comfortably sit and read books everywhere they want. 
There are also a small aquarium and corners designed like caves for children to play and stimulate their fondness for discovery and study. A whole comfortable space has been created for little readers at his book-house. 
Furthermore, librarians taking care of books and helping readers to select books are teachers at Trung's language center, who speak English well, creating an English-speaking environment for everyone to practice English.
Moreover, children can also learn how to read and enjoy reading as well as actively communicate in English here and the place also helps tighten the family bonds.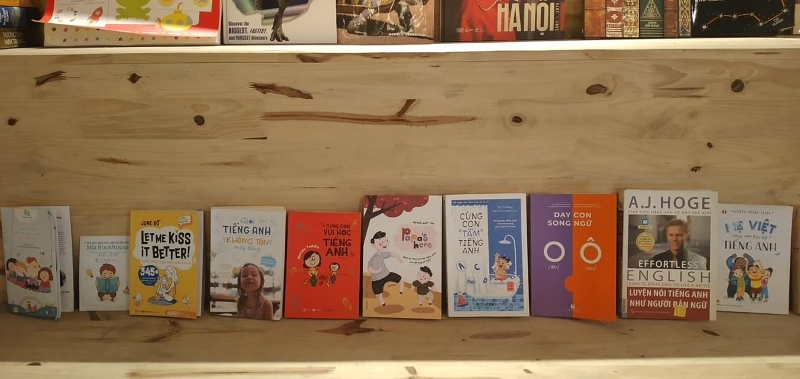 Some student's book are also added recently to enrich the library. Photo: Mia Bookhouse
In the coming time, Trung plans to get more interesting books for both children and adults. In addition, he also expects that the book-house model would be multiplied and known to many people, creating opportunities to bring knowledge to everyone.
Bringing his two kids to Mia Bookhouse the second time, Bui The Anh said that it was an interesting place not only for kids but also for adults, although there are more books for children. Both the books and the reading space are important, inspiring children to read. "Mia Bookhouse has done it very well," according to him.
Hanoitimes

Approximately 600,000 students and 27,000 lecturers from higher education institutions will have access to an abundant source of documents and data through access to a shared electronic library.

Having put all their heart into preserving and promoting values of brocade patterns created by ethnic groups in the Central Highlands, members of a group of young graduates have launched a digital library of such patterns.