Freestyle football was first introduced to Vietnam in 2008 with the establishment of Around The World, the country's first club to practice the art of self-expression with a ball.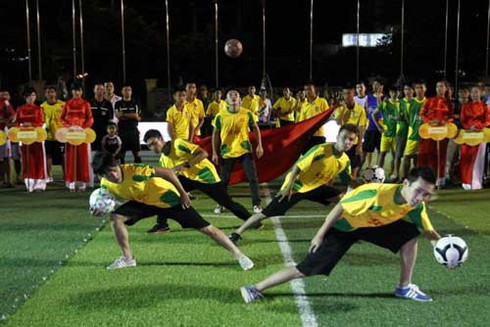 "Around The World" club (Photo: 24h.com.vn)
Freestyle football originated from street soccer. With a ball and a large enough space, a player can do amazing tricks, using his body like a circus performer.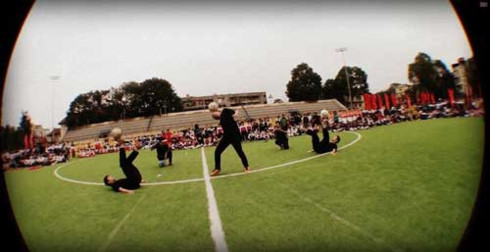 The ATW gathers the most outstanding freestylers in Vietnam. (Photo: 24h.com.vn)
In 2008, Vietnamese-Irish Nam the Man, a world freestyle football champion, returned to Vietnam and established the "Around The World" club, held Vietnam's first freestyle football forum, and organized performances to promote the sport. 
Freestyler Ngo Toan Thang said, "Joining the club allowed me to meet experienced freestylers and learn many lessons about the sport and about life from them."
Freestyle football first appeared on Vietnamese television in a competition sponsored by Pepsi in 2000, but it didn't truly take off until a "Hanoi Freestyle Contest" was organized in 2008 by the Around The World club and Nguyen Hoai Nam, who is considered the face of Vietnamese freestyle football. A year later, more freestyle football clubs began to appear in Hanoi, Da Nang, and HCM City.  
"The more I practice freestyle football, the more I like it and the more determined I am to pursue the sport. It helps me relax after work. I practice 4 or 5 days a week, an hour and a half or 2 hours each time. I intend to enter professional competitions," Nguyen Chien Thang recalled.
Freestyle football began to thrive in Vietnam following the first national competition for individual freestylers in 2009.
The first national championship was organized in 2013 by Nam the Man. Doan Thanh Tung, known as Tungage, was named the top star. Later Vietnam won an Asian competition held in Hanoi, and 2 Vietnamese freestylers, Tungage and DKP, reached the world's top 6. In 2016, Tungage was among the world's top 16 and participated in a world tour in Canada and Australia.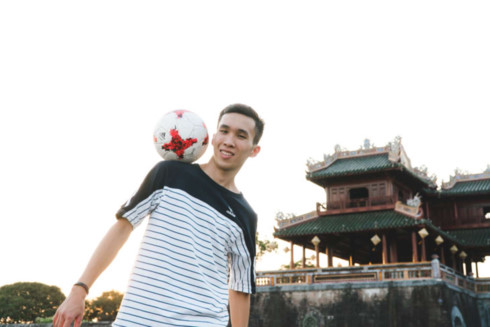 Freestyler Nguyen Ngoc Phat. (Photo: goal.com)
A the Red Bull Street Style World Finals in Poland last year, Nguyen Ngoc Phat beat 27 rivals to win the championship. He will represent Vietnam at the 2019 World Freestyle Football final in the US in November.
"Over the years, we have sought financing for national competitions, so the community of freestylers can meet and share their experience," said Phat.
Regionally Vietnamese freestyle football is second only to Japan. 24h/VOV5