The Friends of Vietnam Heritage will host an excursion to the craft silk village Van Phuc in Ha Dong District on Saturday.
Hanoi artisan preserves the soul of Van Phuc silk village
Thousands flock to Van Phuc Handicraft Village Cultural Week
Hanoi oldest silk village preserves its own style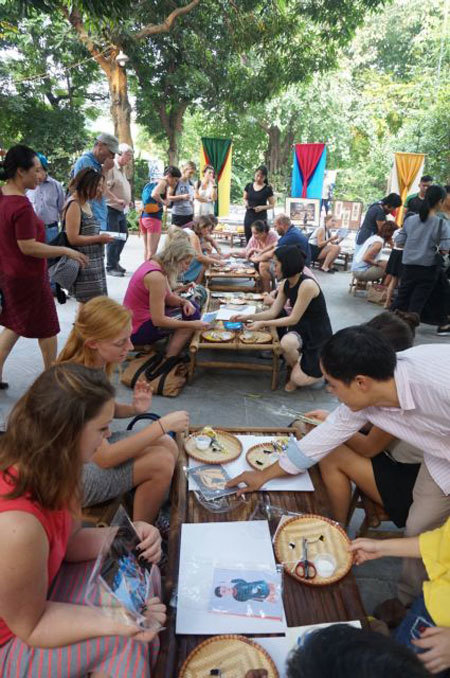 Tourists participate in a silk collage workshop at Vụn Art. – Photo courtesy of Vụn Art
The one-day trip, which take place from 8.30am until 4pm, will include two major activities – silk collage workshop and village tour.
The morning will be spent at the Vụn Art for a talk and workshop. Vụn Art is a local social enterprise founded by inspirational Le Viet Cuong which aims to teach art and create meaningful much needed employment for the disadvantaged and disabled who live in and nearby the village.
The enterprise uses the scraps of silk that have no use for silk collage-based craft. Tour membesr can make a silk collage picture.
The workshop and village tour will be in Vietnamese and translated by a Vụn Art volunteer.
After lunch, chairwoman of the Van Phuc Silk Development Company, Le Thi Kim Thu will conduct the village tour. Thu will explain the village's history, legends and the unique weaving process.
The tour will include the visit to the temple or places of worship.
Cost is VND380,000/person, and VND200,00 for students and children under 15 years old. All the proceeds will go to Vụn Art.
To register, contact Stella at Stella at stella@fvheritage.org
VNS