Before the month is over, the Friends of Vietnam Heritage will host some more exciting activities, including a movie screening and an excursion.
Hanoi's old Buddhist pagodas get special national relic status
At peace at Tay Phuong Pagoda
"Co Ba Sai Gon" up for awards at Osaka Asia Film Festival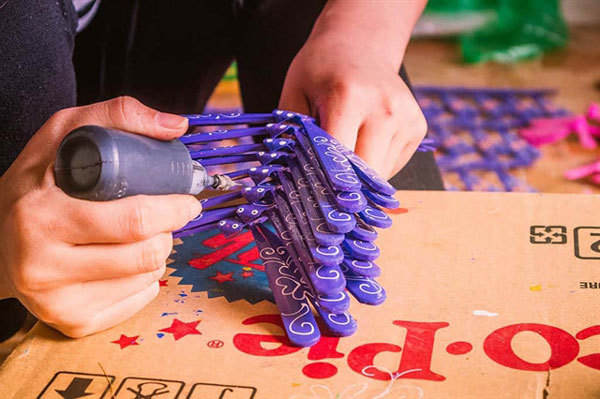 A craftsman puts the final touches on bamboo dragonflies. On June 30, FVH will hold an excursion to the village where the craft originated. — Photo traveloka.com
The screening, which will feature the Vietnamese movie Cô Ba Sài Gòn (The Tailor) will take place from 7:30pm to 9pm on June 29 at The Centre for Development of Movie Talent, 51 Tran Hung Dao Street.
Set in Sài Gòn (the former name of today's HCM City) in the 1960s, The Tailor is a romantic comedy showing the lifestyle of the Saigonese and the history of áo dài (traditional Vietnamese long dress). The film was named the Best Feature Film at the Golden Kite Awards by the Vietnamese Cinema Association in 2017 and selected as the Vietnamese entry for the Best Foreign Language film at the 91st Academy Awards in 2019.
The movie will be presented in Vietnamese with English subtitles. To secure your place, email Van at phuongvan272@gmail.com. Cost: VND150,000.
On June 30, FVH will hold an excursion to Thach Xa Bamboo Dragonfly Village and Tay Phuong Pagoda in Hanoi's suburban district of Thach That.
Thach Xa craft village (about 40km from Hanoi) is famous for its coloured balancing bamboo dragonflies. Originally, they were made for children to play with, however the trade has now blossomed into a famous crafts. The group members will visit the village, meet the first bamboo dragonfly artisan, learn how they are made and then decorate their own dragonflies.
As the village is close to Tay Phuong Pagoda, which is dates from the 8th century, the group will then visit the pagoda. It features wonderful architectural woodcarvings and decorations as well as 62 beautiful wooden statues.
To join, register with Anh at phuonganhnguyen15@gmail.com. Cost: VND350,000/adult, VND170,000/child under 15 and students.
VNS