Gifts sent from international leaders and people to President Hồ Chí Minh were recently put on display at the National Museum of History, Hà Nội.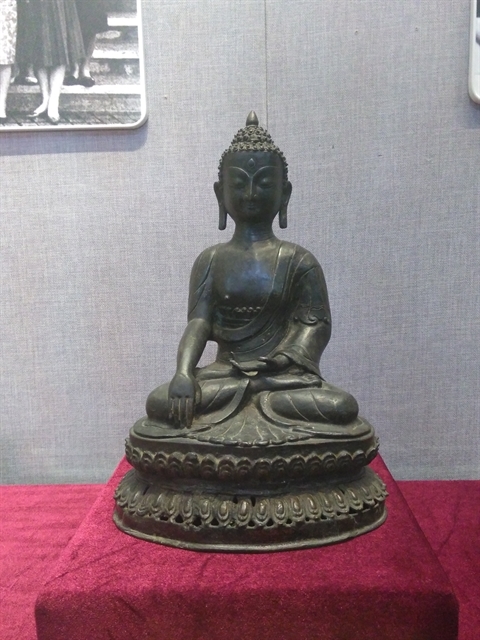 A Buddha statue sent by Indian people to President Hồ. 
The exhibition Hồ Chí Minh – Portrait of a Person opened yesterday to mark his birthday (May 19) and 50 years of implementation of his testament.
With 200 objects, documents and photos, the exhibition is divided into two parts, Hồ Chí Minh – A Life Devoted for the Nation and Hồ Chí Minh in International People's Hearts.
The exhibition tracks different periods in his revolutionary career. On display includes the original versions of the books Đường Kách Mệnh (Revolutionary Path) and Ngục Trung Nhật Ký (Diary in Prison). Other objects like suitcases, bowls, a stone used as paperweight and clothes showing the simple life of the great leader are on display.
In the second part, the exhibition shows the admiration and respect of Vietnamese and international people to President Hồ expressed through gifts.
Each gift also reflects the culture and tradition of the gifting country, for example, a samovar (a heated metal container) from Russia, a Buddha statue from India and a gong from Laos.
"Through the exhibition, we want to help local and foreign visitors understand more about the President then they will raise awareness of building and protecting the country," said the museum's director Nguyễn Văn Cường.
Dr H B Harisha, director of Swami Vivekananda Cultural Centre (under the Indian Embassy in Hà Nội), said he felt fortunate to attend the exhibition and learn more about the great leader.
"President Hồ is also famous and admired in India, we have a street named after him in New Delhi," he said.
"I'm happy and proud to see gifts such as a tea set and a Buddha statue sent by Indian leaders and people here. They prove the close relationship between two countries."
The exhibition will run until the end of August at the National Museum of History, 25 Tông Đản Street, Hà Nội.
On the same day, an exhibition reflecting the respect of the People's Public Security force for President Hồ kicked off at the Museum of People's Public Security, 1 Trần Bình Trọng Street, Hà Nội.
Among photos displayed, one capturing Uncle Hồ playing volleyball with police in Pác Bó Base is noteworthy. It's a precious photo of the leader showcased to the public for the first time.
Vice Minister of Public Security Nguyễn Văn Sơn said the exhibits expressed the care and love of President Hồ for the police.
"The exhibition is a meaningful activity to show admiration of the force to President Hồ. This year marks 50 years since when the leader passed away, it's also 50 years we have followed his testament to devote ourselves to the nation." — VNS