Vietnamese artists and audience will have the chance to engage with the work of ancient Greek writer Sophocles under a project run by the Goethe Institute and Vietnam Youth Theatre.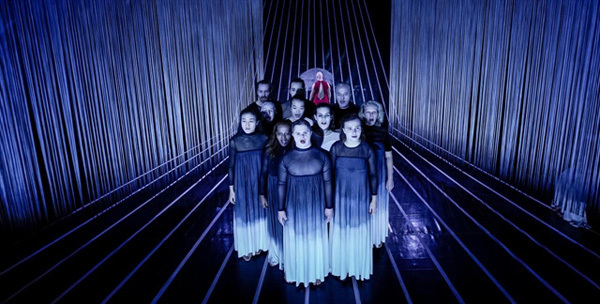 Antigone is performed in the Deutsches Theatre in Berlin. The Sophocles' play will be performed by Vietnamese artists with support of Goethe Institute in Hanoi. Photo deutschestheater.de
The institute has invited Vietnamese creatives to research and perform Antigone, one of Sophocles' most famous plays. 
Sophocles wrote Antigone in the 5th century BC and for nearly two and a half thousand years the play has inspired artists and cultural creators around the world. 
The titular character of Antigone comes from a good home, makes a noble decision for moral reasons, and is then at the mercy of power structures and violence in her environment. Her attitude is both an example and a warning. 
Vietnamese masterpiece Truyện Kiều (The Tales of Kieu) by Nguyen Du (1765-1820) is reminiscent of Antigone and recounts the life and trials of a beautiful and talented young woman who sacrificed her happiness to save her family in distress.
Both works are about loyalty to family, human dignity, the course of history and the most important is the individual in society. 
The theatre is preparing and in-person and online production of Antigone for next year.
Vietnamese artists are invited to take part in the project with a symposium and through various artistic approaches. 
"The project gives Vietnamese including artist and audience to get to know about Antigone," said Nguyen Si Tien, deputy director of the Youth Theatre. 
"Artists will create to approach the piece by their own scripts and their acting on the stage. This will help to show how Antigone can reach and engage young audiences directly on stage and online."
The Youth Theater is a member of the International Association of Theatre for Children and Young People. 
It has worked with international organisations in the field of theatre. 
In 2019, the theatre produced theatre works based on Truyện Kiều with support from the Goethe Institute.  VNS

A night of poetry and music was held at Hanoi's Goethe Institute yesterday evening in front of a limited audience to ensure social distancing.