The Government has requested authorities in the central province of Thua Thien-Hue report on violations in conserving an item in the former royal citadel, a piece of the system recognised as world cultural heritage by UNESCO.
Hue authorities adopt evacuation plan to protect historic relics
Hue struggles to move residents from citadel walls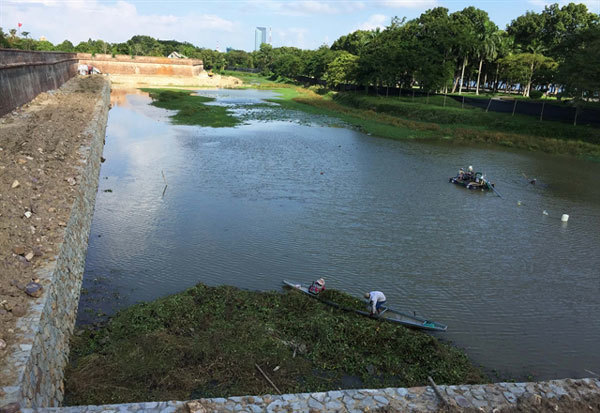 Part of the newly-built embankment wall found in front of the citadel in Hue City. VNS Photo Phuoc Buu
Earlier, residents and media in the province's city of Hue discovered part of the bank of a canal running in front of the citadel had been repaired. At the scene, people found a newly-built concrete wall buffering the earthen embankment and the canal water.
Not far from the new wall, people also saw a big excavator was breaking the original wall to make space for the construction of other parts of the new wall.
The work violated conservation rules as well as the law on heritage conservation, which do not allow the construction. The use of new materials as well as heavy equipment like excavators at the vulnerable site is not allowed either.
Originally, the wall was constructed by arranging layers of stone from the canal bottom to the top surface of the embankment to prevent landslides.
After the building of the citadel, kings under the Nguyen Dynasty (1802-1945) dug canals surrounding the citadel to repel intruders. Workers used their hands to layer the stones one by one to create the wall.
Changes in structure of soil under the canal bed have gradually collapsed several parts of the wall, sending stones into the water.
According to experts, the proper way to conserve the wall is to collect the stones from the canal bed and rearrange them, using modern techniques and light equipment. The construction of a new wall at the UNESCO heritage site has been a surprise as the work was organised and authorised by Hue Monuments Conservation Centre.
The centre is a local government body managing all relics built by the Nguyen Dynasty in Hue. Its main function is to control and conserve the relics. For decades, it has worked as the host of a conserving project contracted by local and international conservers.
Last week, the province People's Committee, the controller of the centre, requested the halt of the construction project after 1,000m of the new wall was completed. The committee also ordered the investigation the personnel in charge in the case.
Normally, the chairman of the committee would have to approve the project before it began. The case has puzzled the public as people could not understand why the procedure has been changed.
VNS