Grandmaster Le Quang Liem finished ninth, while his teammate Nguyen Ngoc Truong Son came 14th at the FIDE Grand Swiss 2019 chess tournament which closed on Monday in the UK.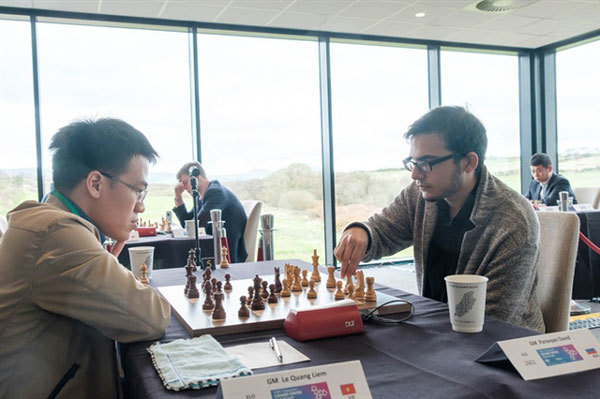 Grandmaster Le Quang Liem (left) plays GM David Pavaryan in their last match at the Grand Swiss 2019. Photo of organisers
Both Vietnamese players drew their final matches.
Liem tied with GM David Pavaryan while Son was all square with GM Maxim Matlakov, both of Russia.
Liem, who was unbeaten at the tournament, grabbed seven points after 11 matches. With his final ranking he pocketed US$9,600 and 1.9 points in Elo rating.
Sơn won three, frew seven and lost one, had 6.5 points. He received $2,275 and 6.5 Elo points.
The top three are Wang Hao of China, Fabiano Caruana of the US and Kirill Alekseenko of Russia. Wang took home $70,000 and qualified for the Candidates Tournament where he will play current world No 1 Magnus Carlsen of Norway in 2020.
Liem will compete at the Grand Chess Tour Superbet Rapiz and Blitz in Romania early next month before returning home and join Sơn and other teammates to prepare for the SEA Games in late November. VNS