Gymnast Le Thanh Tung is Vietnam's second athlete who has qualified for the 2020 Tokyo Olympics next summer.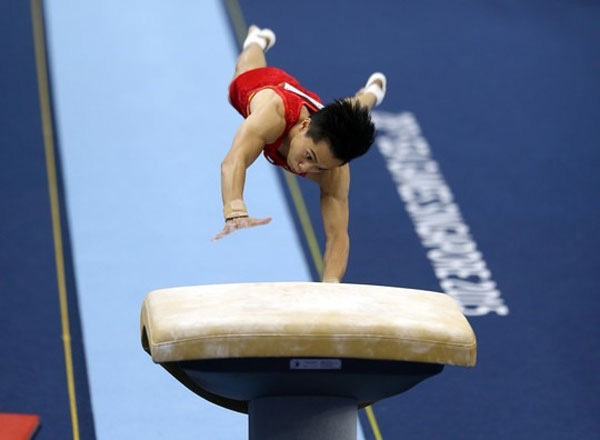 Le Thanh Tung will represent Vietnam at the Tokyo Olympics in 2020. 
Tung grabbed his berth after finishing fifth at the World Artistic Gymnastics Championship's men's vault event in Stuttgart, Germany, on Monday.
The multi-time World Cup, Asian championship and SEA Games winner had two attempts which gave him an average score of 14,633 to place fifth in the qualification. The result pushed him to the finals for the first time in his career as well as the first time for in Vietnam's history.
Athletes would take their Olympic slot if they were in top three of individual events. Five athletes who stand above Tung have already qualified for the Games, so Tung will take his place before the finals on Sunday.
"14,633 is his personal best which makes him the first athlete of Vietnam in the world championship tournament," said coach Truong Minh Sang.
Vietnam take part in the German competition with six athletes, three males and three females. Other players did not make finals.
Previously, swimmer Nguyen Huy Hoang took the first Olympic berth for Vietnam in the men's 800m event.
At the last Olympics in Brazil, there were 23 athletes wearing Vietnamese colours. VNS