Hai Phong FC have been ordered to pay a former player VND5 billion (US$200,000), or face a transfer ban.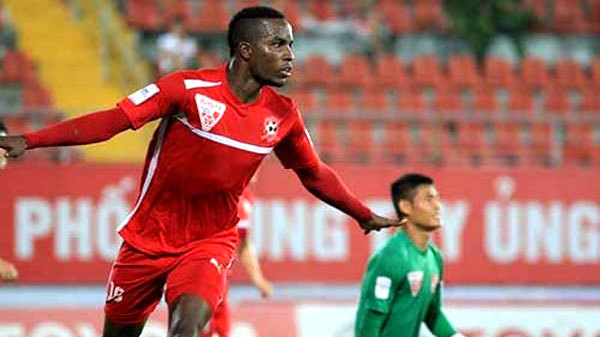 Errol Stevens seen in Hai Phong jersey in 2017. — Photo nhandan.com.vn
World football governing body FIFA ordered the V.League 1 side to compensate their former Jamaican striker Errol Stevens after it ruled they breached the two sides' labour contract.
The amount consists of unpaid wages and bonuses for a two-year contract Stevens signed in 2017. The club must pay within 45 days to avoid a three transfer window signing ban. The punishment could be increased to a playing ban if they avoid paying altogether.
Stevens signed a two-year contract with Hai Phong in May, 2017. He signed four copies of the contract but was not allowed to keep a single one.
In August, Stevens asked for the contract so he could apply for a Vietnamese passport for his Vietnam-born son, but the club refused.
On his Facebook, Stevens claimed Hai Phong did not release him but stopped paying his salary, while refusing to release him from the deal.
This led to the Jamaican leaving the country filing the suit against the club to FIFA.
Hai Phong president Tran Manh Hung said he was surprised at the decision and that the club planned to appeal.
Hung added that the club had sent evidence of Stevens' "wrongdoing" to FIFA, but received no reply.
The 33-year-old is now a free agent, with V.League clubs still able to sign new players for the next three days.
Before he left Vietnam, Thanh Hoa and Quang Nam tried to sign Stevens but both withdrew due to the ongoing case.
Stevens was one of the top scorers in Vietnam from 2015-18, with 41 goals in 88 matches.
VNS