Hanoi-native Pham Tran Quan is displaying his paintings at an exhibition entitled Phận Phố (Street).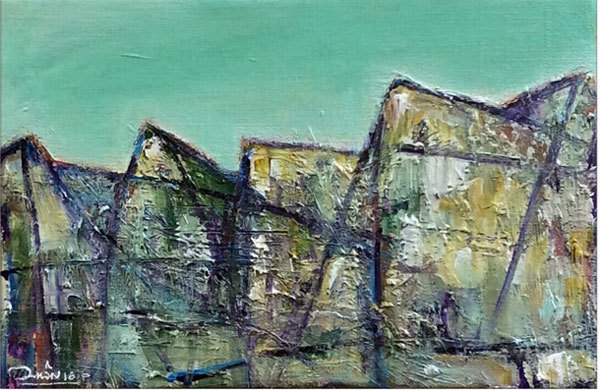 Acrylic painting Phận Phố 9. — Photo courtesy of the artist
The exhibition features 38 oil and acrylic paintings created since 2015.
Pho 38 is the latest one. Quan finished it a few days before the exhibition opened on January 14.
The painting is coloured with different tones of blue, including Quan's memories of Cua Bac Church.
"I painted the church with my emotions from the past," said Quan. "I studied at Ly Thuong Kiet Secondary School and the back gate led to the church.
"Sometimes, we skipped class and went to church."
Quan had never painted the old street even though he was born on Nguyen Khuyen Street in Hanoi. He became interested in the theme five years ago.
"Streets are a familiar subject and Hanoi's Old Quarter is a theme that has helped many artists make their names," said veteran artist Le Thiet Cuong.
"After drawing different themes such as portraits and still-lifes, Quan has settled for the streets.
"Quan still sees the old streets in a different light than other artists have not yet discovered," Cuong said.
The paintings show his feeling about the old streets.
His nature and liberal style makes the paintings beautiful with a combination of colours and strokes.
The exhibition is his third solo show following an outdoor exhibition held by the German Embassy for the 40th anniversary of the fall of the Berlin Wall and the Ten Vietnamese Young Artists Exhibition held by the Danish Embassy.
The exhibition will till January 22 at Pi House, 11B Trang Thi Street. — VNS

An exhibition featuring an array of paintings and mice-shaped ceramic products opened on 46 Tran Hung Dao street in Hanoi on January 6 in order to celebrate the upcoming Lunar New Year, known locally as Tet.

An exhibition celebrating the diversity and beauty of the female body, in all its forms, will open tomorrow at the QUA Gallery in Hanoi Rock City (HRC).