The Kanagawa festival is scheduled to be held at Ly Thai To park in Hanoi over a two-day period from November 16 to 17.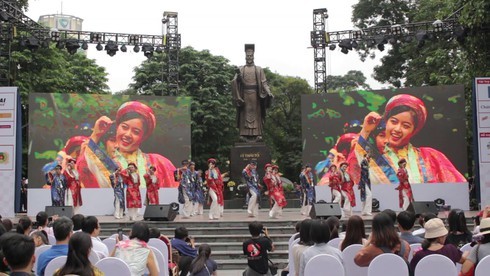 Kanagawa festival 2018 in Hanoi
The festival will see a wide range of cultural activities take place, whilst an array of famous sightseeing spots located throughout Japan's Kanagawa prefecture will be introduced to visitors in the form of local tourism products and services.
The conclusion of the event will also serve as its highlight, with a folk festival taking place at the Hanoi Opera House on November 17 and several music shows being organised from 1 pm to 3:30 pm, and again from 6 pm to 8:30 pm.
Entrance tickets cost VND100,000 each, with all of the money raised to be given to Nguyen Dinh Chieu School for students who suffer from visual impairments.
Following the festival, a trade promotion conference between Vietnam and Kanagawa prefecture will be held on November 18, with the participation of both Japanese and Vietnamese businesses. VOV

Japan's information technology is developing well, but it lacks staff and is looking to hire Vietnamese software engineers.

The noxious odour and level of mud in the To Lich River and West Lake in Hanoi have decreased dramatically since nano-bioreactor technology has been applied, according to a JETRO representative.