People's Artist Thanh Huong is one of the few celebrated cải lương (reformed theatre) actors and singers in Hanoi.
New show honours cai luong to be held in HCM City
HCM City theatres work to preserve cai luong with young actors, new music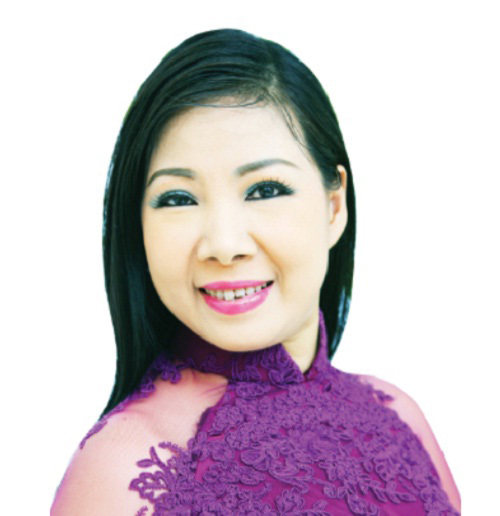 People's Artist Thanh Huong
The capital's audiences will recognise her from gorgeous and melancholic roles like Thúy Kiều in The Tale of Kiều, Trinh Nguyen in The Intellectuals of Thăng Long Imperial Citadel, and Lan Chi in A Life through the Whirligig of Time.
Over the past 32 years performing at the Golden Bell Reform Theatre, her talent has been celebrated with nine gold medals.
In 2001, Huong was granted the Meritorious Artist award when she was only 29. In January 2016, she was named a People's Artist by the Government.
She sat down with reporter An Vu to talk dedicating her life to the art of cai luong and the audience
You have left a strong impression on audiences with tragic roles, including Thúy Kiều. Kiều is described as a beautiful, talented and educated young woman who has to sacrifice herself to save her family from debt. Your performance was so convincing that your colleagues named you "Hương Kiều". But recently, you have shown up in fresh and witty roles in comedic cải lương performances. Can you tell us about this change?
The theatre recently created some short plays for public viewers. This is a change in order to provide new audiences with concise, joyful works. We have created long plays before; they took lots of effort but viewers showed little interest. I have had to adapt too. Although this is the first time I have been in a comedy, I am still a mainstream actress. I am a sub-character to other actors, so it is not too difficult.
Many artists at the theatre said northern cải lương singers struggle to make end meets. For you, as one of the highly decorated stars of Hanoi reformed theatre, what is your opinion?
I think this issue is common to many traditional arts, not only cải lương. I feel really sad each time we stand on the stage and there are not many eyes down there watching us. But I still see a certain number of viewers who are enthusiastic about the art and keep coming to watch us even though they have many other choices. They give me the motivation to keep on working.
About our livelihood, we all need to have an extra job. Besides our main shows, I join annual outdoor shows and dub foreign films for Viet Nam Television. Certainly, I have to work several jobs to guarantee my livelihood. Fortunately they are all related to the arts.
You have been on stage in the capital through all of the art form's ups and downs, and gone through struggles in your personal life as a result. How do you feel about your choice to dedicate your life to cải lương?
Well, I started singing when I was 14 in 1985. My parents were also cải lương singers at Kim Phụng troupe. At first when I wanted to go on stage, they did not allow it because they knew first-hand that it is a difficult life. They had shows every day and mostly slept at a local's house or backstage. They barely had time for their children, so they did not want us to live like them.
But my passion for the art was too deep, so I was determined to prove to my parents that I loved cải lương and was capable of pursuing it as a career. If not this, what else would I do? Finally, my parents gave up and let me do what I love.
As I look back, I see that although there were many hindrances, I was glad to make sacrifices for my passion. Now all my hard work has paid off.
Audiences are quite familiar with your stage name "Hương Kiều" after your success with the character of Thuý Kiều. Do they still call you by that name?
Oh yes, I am still called that by some. It was a hard time when I played Kiều because I was so young and did not have much experience. I did what my instincts told me. Most people share the idea that Kiều was beautiful and perfect but I do not think so. I felt that if she was perfect, it was so unreal and not true to the original.
When Kiều had to flee from Quan Am Pagoda, it was because of her unfortunate situation. She had to steal the bell that time. In another scene when she took revenge on Hoạn Thư, the wife of womaniser Thúc Sinh, she used her mind instead of her heart.
My Kiều becomes strong and ruthless only when she needs to, when she has power in her hands. After taking revenge and claiming what truly belongs to her, she returns to her true self as a tender and well-educated person.
When we performed The Tale of Kiều in Germany and Switzerland, audiences gave it a warm welcome.
Have you ever considered switching to directing since you have so much experience as a successful actress?
If I wanted to be a director, I would have switched a long time ago. I have decided to be an actress and singer for the rest of my life.
VNS