City's Department of Culture, Sports and Tourism has sent a letter urging authorities to save the pre-historic archaeological site, popularly known as Vuon Chuoi, to preserve ancient artefacts that belonged to the city's earliest residents.
Sewage pipes await installation near Vuon Chuoi archaeological site. 

Only two weeks ago, a conference was held at the excavation site to brief the press on the latest findings and offer three possible plans to preserve this site.
But soon after the excavation team concluded their work, construction activities resumed and so far have harmed two of the three digs in the area.
"Den Ran and Mo Phuong are in danger," said archaeologist Lam Thi My Dung, chairwoman of the Vuon Chuoi excavation project that started back in May. Currently, on a trip to China, Dung had reiterated the need to protect the site before she left.
Fifty years after Vuon Chuoi was discovered, bulldozers are racing to build a ring road and a new urban centre on top of it. A Việt Nam News team visited the site to find bulldozers continuing to work on the abandoned digs.
Hanoi's Department of Culture and Sport reiterated the preservation solution offered by the Vietnam Archaeology Institute to preserve 6,000sq.m. on the east of the site, which amounts to half of Vuon Chuoi.
To Van Dong, head of the Department of Culture, Sports and Tourism signed the letter, urging the city to send an urgent request to Vietracimex to stop all construction activities at the site. He also asked city officials to assign security guards to protect the site against illegal digs.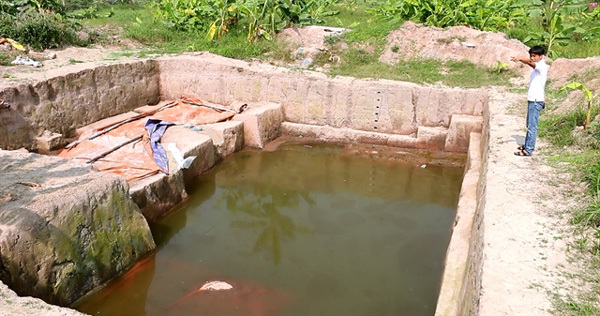 Rain has filled some of the excavation holes. Illegal holes dug by antique hunters have also been spotted around the area. 

Archaeologist Bui Van Liem, head of the excavation team who worked on the site from May until October, called on city officials to do their best to protect the site.
"It is urgent now that we stop all the construction and protect this area," he said by telephone to Việt Nam News. Citing Prime Minister Nguyen Xuan Phuc in his speech on protecting cultural heritage, he said: "We can make, produce or create many new things, but not heritage."
In his speech, the PM also said it was forbidden to destroy cultural heritage in the name of development.
The Vuon Chuoi archaeological site is located in a new urban area named Kim Chung – Di Trach. Vietracimex is currently the investor for the project. The west of Vuon Chuoi stands in the way of 3.5km stretch of the ring road. During land clearance, Vietracimex bulldozed the Mo Phuong and half of the Den Ran graveyards to build inner roads for the project.
Local residents said at night, illegal antiques hunter had been digging in the area. According to the Heritage Law, antiques found underground or underwater belonged to the people, and it was illegal to trade in national archaeological artefacts.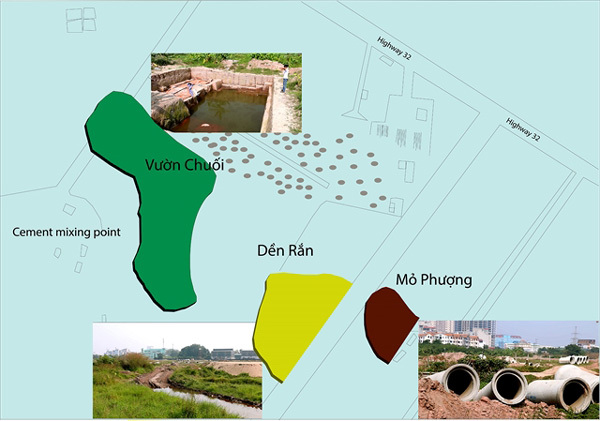 Map of the Vuon Chuoi area.

The Vietnam Institute of Archaeology has called on authorities and project owners to stop any further construction work that could destroy the site.
Vietracimex could not be reached by phone prior to this article going to print. Vietracimex started its Kim Chung - Di Trach residence project in 2008 with plans to turn the area into a bustling new urban centre west of Hanoi, with apartment buildings, townhouses, a theatre, a hospital and schools, with apartments sold for between VND50-70 million (US$2,500-3,000) per square metre. Ten years later, only some of the townhouses have been built, and investors say they have buried thousands of billions of dong into the project.
Vuon Chuoi is Hanoi's largest prehistoric archaeological site spread over Lai Xa and Kim Chung communes in Hoai Duc District. First discovered in 1969, there have been eight excavations carried out at the site to discover clues about early residents of Dong Dau through to Go Mun and Dong Son between 1,500 and 3,000 years ago. VNS

A year and a half after Việt Nam News called on authorities to stop a construction project to protect the first and most important heritage site of civilisation in Hanoi, the latest archaeological findings make it

An excavation in Vườn Chuối archaeological site will start from April 25th, the 9th excavation since it was first discovered in 1968.