Hanoi FC advanced to the National Cup final after their controversial 3-0 win over HCM City on Sunday at Hang Day Stadium.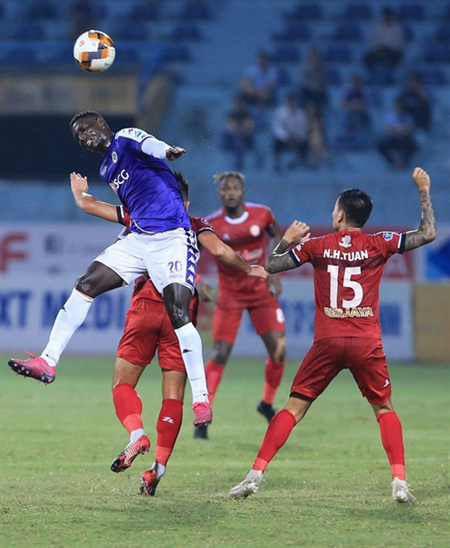 REACHING HIGH: Pape Omar Faye of Hanoi (left) tries to head a ball during the National Cup's semi-final match. Hanoi won 3-0. Photo VPF
The V.League 1 champions showed off their strength from the first whistle, taking just two minutes to fire off their first shot. Midfielder Do Hung Dung broke through HCM City's defence to send a perfect ball to captain Nguyen Van Quyết, whose close-range finish was blocked.
Midfielder Pham Duc Huy took his chance in the 13th minute but his shot was not strong enough to beat goalkeeper Nguyen Thanh Thang.
HCM City answered with attempts by Do Van Thuan and Tran Phi Son. But goalie Phi Minh Long, who has just signed a three-year contract with Hanoi, parried the shots.
The controversial goal happened in the 35th minute when Nguyen Van Dung collided with keeper Thang in front of his goal. Pape Omar Faye took the ball and opened the score for the hosts.
HCM City players objected to the decision as they said Dũng brought Thang down. But referee Nguyen Dinh Thai allowed the goal to stand.
All visiting players left the field in protest. After a few minutes they accepted the decision, returned and continued the game.
Just a minute after the interval, former national player Quyết passed a ball to his young teammate Ngan Van Dai who made it 2-0 for Hanoi with a tap-in.
Skipper Quyet scored a goal himself at the 75th minute after a one-two situation with Faye near the box.
It should have been more for Hanoi if the crossbar did not deny two straight shots by Papa Ibou Kebe.
Hanoi will play Quang Nam in the final, searching for the only domestic title they don't have in their collection.
Quang Nam came from behind against Becamex Binh Duong after their 2-1 win in an earlier semi-final match on Sunday.
Ha Minh Tuan and Rodrigo Da Silva Dias shone in the match that they had to play away at Go Dau Stadium.
Binh Duong received strong home support but it also piled on the pressure that prevented them from opening attacks throughout the game.
Former V.League champions Quang Nam dominated most of the first half with Nguyen Anh Hung and Hoang Vu Samson testing Binh Duong goalkeeper Tran Duc Cuong many times but their finishes did not find the net.
It was, however, Binh Duong who opened the score with one of their rare attempts a minute before the break.
A defender opened the attack from the left wing and provided a ball in the box where Wander Luiz just needed an easy touch to score.
A short interval did not help Binh Duong change the situation, they still played in defence under Quang Nam's consecutive threatening attempts.
Striker Tuan stole the ball after a mistake by Binh Duong's defence and levelled the score with a low finish in the 76th minute.
Eight minutes later Dias jumped high and nodded home the second goal for the visitors.
Binh Duong pushed up the pace of the match but it was too late to overthrow Quang Nam.
VNS