The HCMC Ballet, Symphony Orchestra and Opera (HBSO) will present an evening of 'Music of the German Masters' on June 2 at the Saigon Opera House.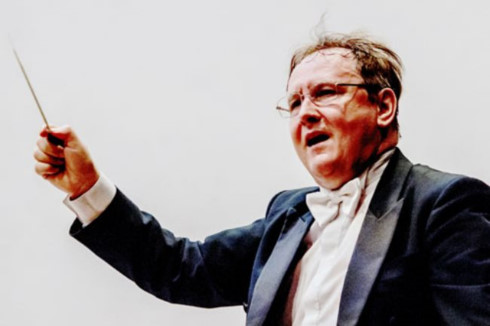 The "Music of the German Masters" will be led by Polish conductor Wojciech Czepiel - Photo: Courtesy of HBSO
The masters concerned are Mendelssohn, Bruch and Brahms, but the chosen works are not the well-known violin concertos that all three composed. Instead, they are works that will be new to many in the Saigon audience.
To add to the evening's attraction, several foreign musicians will appear as guest artists, and a famous Vietnamese violinist, Chuong Vu, working in the US, will return as Guest Concertmaster.
Mendelssohn wrote his Concerto for Violin, Piano and Strings when he was just 14 years old. In this, the work has a lot in common with his early string symphonies, one of which was performed by HBSO on May 4.
The solo violinist in Saigon will be Chuong Vu, who is also the evening's Guest Concertmaster. The solo pianist will be Dao Trong Tuyen.
Chuong Vu is the concertmaster of the San Angelo Symphony Orchestra, Texas, and he delighted Saigon with his charismatic performance in Rimsky-Korsakov's Sheherazade with HBSO last October.
After the intermission we will hear Max Bruch's Concerto for Violin and Viola.
Two guest instrumentalists will feature in this work. Playing the violin will be Martha Walvoord, while on viola will be Juan-Miguel Hernandez.
Walvoord is associate professor of violin at the University of Texas at Arlington, and is the sole recipient of the TexASTA 2010 Marjorie Keller Young Teacher of the Year Award. She performs on a violin made by Francois Pique in Paris in 1800.
Hernandez, who was born in Canada, was appointed in 2016 as a professor at the Royal Academy of Music in London. He combines extensive international viola performance with a continuing interest, and participation, in jazz.
Bruch's double concerto was originally composed for clarinet and viola (in 1911) because Bruch had a son who played the clarinet. It is often performed with violin and viola, however, and that is how we will hear it at the Saigon Opera House on Sunday.
Last will come six of Brahms's Hungarian Dances. Brahms lived and worked in Vienna (in present day Austria), but Hungary was nearby and was considered the source of exotic, lively, and gypsy-influenced music. Brahms's Hungarian dances fall into this category.
Brahms wrote 21 of these dances, orchestrating only some of them. The rest have been orchestrated by other hands, and today they are among Brahms's most popular compositions.
The dances to be heard in this Saigon concert are numbers 1, 4, 5, 6, 10 and 14, though not in that order.
The whole evening will be conducted by the Polish conductor Wojciech Czepiel, closely associated with the Warsaw Sinfonietta and the Krakow Academy of Music Symphony Orchestra. Vietnam is fortunate to be able to welcome him as the conductor of this celebrity-filled concert.
Tickets for this special event are very reasonably priced, from VND300,000 to VND650,000, with a concession of VND80,000 for students. The concert begins at 8 p.m. SGT