A collection of 115 art works by nine artists of HCM City is on display at the HCM City Fine Arts Museum.
Huynh Van Muoi, chairman of HCM City Fine Arts Association, said: "The exhibition introduces works in various materials and topics by prestigious artists of the city. It shows the artists' love for arts, which is a motivation for young artists to improve."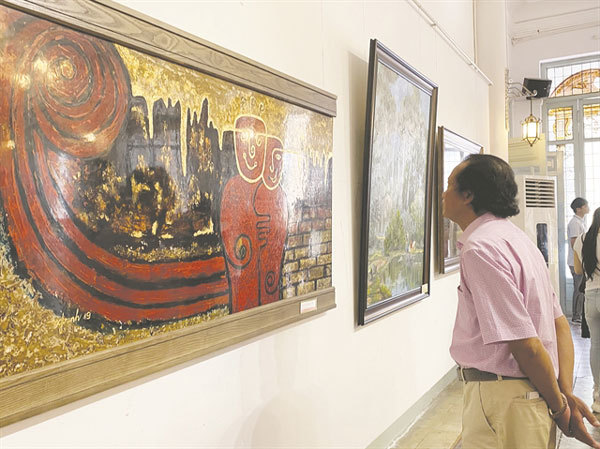 A visitor at the exhibition Đón Xuân (Welcome Spring) of 115 art works by nine artists of HCM City at the HCM City Fine Arts Museum until January 1. 

The exhibition titled Đón Xuân (Welcome Spring) includes paintings and sculptures in different media, including oil, acrylic, water colour, lacquer, wood, and ceramic.
The works' themes are about landscape, lifestyle, flowers, and the beauty of Vietnamese women, created by veteran artists who are members of Vietnam and HCM City Fine Arts Associations.
Mai Thanh, who graduated from the HCM City University of Fine Arts (HUFA) in 1986, introduces oil and acrylic on canvas paintings highlighting the beauty of forest in Vietnam.
He used his unique technique by painting and carving to create deep green for his paintings, such as Bên Rừng Đại Ngàn (In the Great Forest) and Ấn Tượng Rừng Tràm (Impression of Melaleuca Forest).
Thanh, a native of the northern province of Ha Nam, has taken part in around 20 solo and group exhibitions in Vietnam, Cambodia, Laos, Myanmar, Singapore, and the United Arab Emirates.
An oil on canvas painting called Bên Rừng Đại Ngàn (In the Great Forest) by veteran artist Mai Thanh. VNS Photos by Phuong Mai

Nguyen Quang Vinh, 73, brings to the exhibition his lacquer painting Gặp Nhau Tại Nhà Thị Hến (Meeting by Chance at Ms Mussel's House), based on Vietnamese folk tale Nghêu Sò Ốc Hến (The Story of the Clam, Oyster, Snail, and Mussel).
He also displays still life works and paintings of Vietnamese people.
Vinh graduated from HUFA in 1984 and the Surikov Art Institute in Moscow in 1993. He was a lecturer at HUFA.
Two female artists Nguyen Ngoc Trinh and Nguyen Thi Tuyet are showcasing their oil and lacquer paintings about different kinds of flowers and landscape like Hoa Vô Ưu (Sala Flowers) and Xuân Hà Giang (Spring on Ha Giang).
Paintings and sculptures by Duong Sen, Le Xuan Chieu, Nguyen Dat Khoat, Dinh Cong Khai and Nguyen Van Trung are also display.
Ariel Jisu Cheon, CEO of art and culture agency of the South Korea-based Tien Art Company, said: "We are excited to view these since Vietnamese paintings are difficult to see in Korea."
Cheon has worked with Vietnamese artists through group exhibitions held in both South Korea and Vietnam.
The exhibition runs until January 1. The museum is at 97A Pho Duc Chinh Street in District 1. VNS

The first exhibition in Vietnam to unite three disciplines -- fashion, architecture and visual arts -- has being held in HCM City. 

Ho Chi Minh City will host the 15th addition of the Asia-Pacific Bonsai and Suiseki Exhibition at Suoi Tien Theme Park from November 15-18, the Vietnam Ornamental Creature Association.