Having started the 2020 season in blistering form, HCM City FC midfielder and captain Tran Phi Son is targeting a return to the Vietnam national team.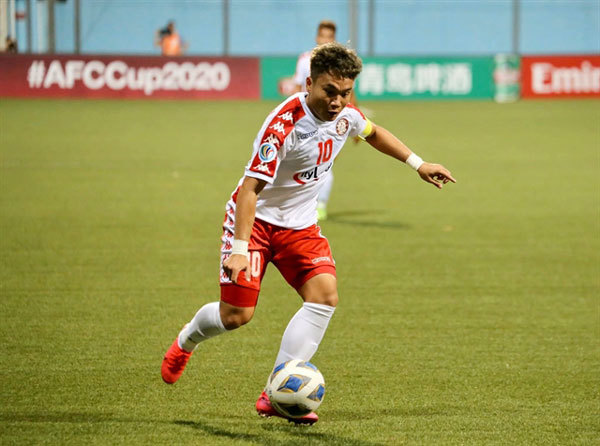 Midfielder and captain Tran Phi Son of HCM City hopes to return to the national team this year. — Photo foxsports.com.vn
"All footballers want to wear the jersey of their national team. So do I. However, I have to try more to get opportunities with the hope of being called up to the national team again," said Son.
Although the 27-year-old is dealing with an ankle injury, Son has starred for his club side in the AFC Cup, contributing a lot to their unbeaten start through two matches.
After playing a part in his team's first-ever AFC Cup goal in the 2-2 draw against Yangon United of Myanmar, Son assisted all three goals in City's 3-2 win over Hougang United FC of Singapore.
The Asian Football Confederation selected him as one of the top five players of the first two rounds of fixtures in the 2020 AFC Cup's ASEAN and West Zones.
Son has more assists than any other player after two games and is also second in chances created with 10.
"This year, I feel that I am in the best shape. So I will make every effort to bring success for my club and complete my dream of returning to the national team. Now I am trying to train hard. Since I left Song Lam Nghe An, I have changed my way of playing to make progress," said Son.
The midfielder played for his country three times in 2015-16 and scored one goal. He won the country's best young player award and the best player award of the Thanh Niên Newspaper International U21 Football Tournament in 2012.
Perhaps the best omen for Son's potential recall to coach Park Hang-seo's squad is his burgeoning partnership with forward Nguyen Cong Phuong, who is a key part of the national team.
Phuong and Son have formed a solid partnership at club level so far, one coach Park may be keen to recreate on the international stage.
"Phuong and I have tried to talk with each other a lot. We also have exchanged actively in training as well as talk with our coach Chung Hae-seong. Besides, we have co-ordinated with the whole team very cleverly," Son explained.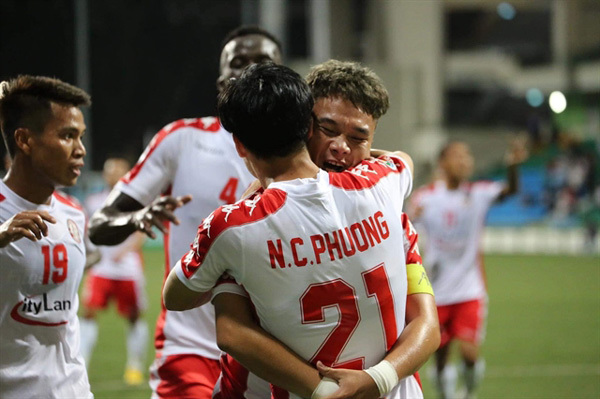 HCM City's midfielder and captain Tran Phi Son celebrates with striker Nguyen Cong Phuong in the AFC Cup 2020. — Photo baonghean.vn

According to former coach and football expert Doan Minh Xuong, Son is the type of footballer the national side need.
"Son is a rare footballer of Vietnamese football because of his creative and intelligent way of playing. He is a type of footballer who is necessary for Vietnam as his creativity can surprise rivals. However, for coach Park to select him, he needs to handle situations more decisively to suit the way of playing which Park is building for his Vietnam team," Xuong told thanhnien.vn.
Coming back
While Sơn is a star for HCM City FC now, it wasn't always so.
After playing for Song Lam Nghe An for 10 years, Son moved to HCM City in 2018 for a salary of VND70 million per month and he reportedly cost a sizable big transfer fee. However, under the guidance of coach Toshiya Miura, Son struggled to live up to his price tag in 2018.
Worse was to come as the central province of Ha Tinh-born player suffered an ankle injury at the beginning of the 2019 season, costing him the entire campaign.
"Injury really becomes an obsession for any player. 2019 was so unlucky for me. There were at least three times I got injured. The pressure from the fans was probably not equal to the pressure sitting on the bench watching my teammates play," Son said.
Flights between HCM City City and Singapore to check and treat injuries became common for Son, before he had to go to South Korea for an operation.
When Son was rehabbing, HCM City made waves in the transfer market, with many players leaving and stars like goalie Bui Tien Dung and forward Phuong coming in to try and take the V.League title after a second-place finish in 2019.
Despite all the changes, Son grew in stature among his teammates and was entrusted with the captain's armband ahead of this season. — VNS

Midfielder and captain Tran Phi Son of HCM City has been voted one of the top five players of the first two rounds of fixtures in the 2020 AFC Cup's ASEAN and West Zones by the the-afc.com.