The HCM City Hat Boi Theatre will launch a new programme offering hát bội or tuồng (classical drama) performances for foreign visitors as part of the theatre's efforts to introduce Vietnamese theatre to the world.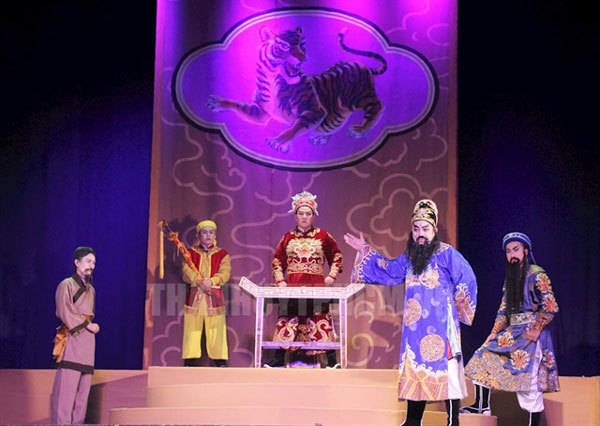 Artists from the HCM City Hat Boi Theatre perform hát bội (classical drama) plays targeting foreign visitors. Photo by Ngan Anh
The programme features more than 30 performers, including young talents Bao Chau, Thanh Binh and Minh Khuong.
Its first show will be Sanh Vi Tướng, Tử Vi Thần (Patriots), an experimental play directed by People's Artist Tran Ngoc Giau.
The 60-minute work highlights the patriotism, loyalty and bravery of Vietnamese peasants who fought invaders.
"Foreign visitors know about our food, traditional markets and landscapes but have no knowledge of our traditional theatre, including hát bội, a unique genre of Vietnamese theatre originating in the 12th century," said Le Dien, director of the theatre.
"They will learn about the art and the country's history, culture and lifestyle through our performances."
In the play Sanh Vi Tướng, Tử Vi Thần, artists will perform dance and music without singing.
"Hát bội always goes with singing. The words used in the art are very old. We decided to offer this new performance style, with no singing, because foreigners who do not know the Vietnamese language can focus on dance and music, which both feature the play's theme."
"Audiences will receive training in makeup, dancing and music in hát bội by artists after the show," he said.
Last year, the theatre launched a free programme on Bui Vien Walking Street in District 1 to introduce the art to foreign visitors.
The programme, Giới Thiệu Nghệ Thuật Hát Bội (Introducing Hat Boi), features young performers trained by People's Artist Dinh Bang Phi.
It is staged twice a month on weekends.
Hát bội developed from a folk art to a royal art. It consists of singing and dancing to music. Its themes include monarchist loyalty and patriotic duty which define the play's structure, features, language, music, colour and characters' struggles and personalities.
The art features the spirit and characteristics of Vietnamese.
The play Sanh Vi Tướng, Tử Vi Thần will open at 7pm on September 2 at the Tran Huu Trang Theatre, 136 Tran Hung Dao Street, District 1. Performances take place three times a month.
VNS