The HCM City's Department of Culture and Sports Department in collaboration with the Tran Huu Trang Cai Luong Theatre is offering free traditional performances targeted to young people this month.
New show honours cai luong to be held in HCM City
100 years of cai luong celebrated in HCM City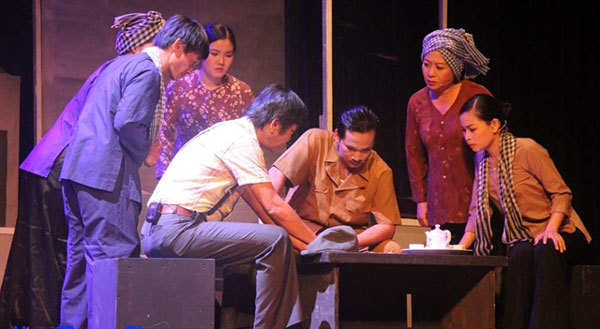 Veteran and young actors of Tran Huu Trang Cai Luong Theatre will take part in free traditional performances launched by HCM City Department of Culture and Sports this month. — Photo courtesy of the theatre
The department has spent VND480 million (US$20,700) on producing free hát bội or tuồng (classical drama) and cải lương (reformed opera) performances as part of the city's efforts to attract younger audiences.
Tran Huu Trang Theatre will perform popular extracts from historical plays, such as Trần Hưng Đạo Đại Chiến Bạch Đằng Giang (General Tran Hung Dao in the Battle on Bach Dang River) and Trần Quốc Toản (Young Hero Tran Quoc Toan).
The shows feature more than 20 veteran and young artists, including stars Le Tu, Tu Suong and Minh Lam.
"We will also stage Đời Cô Lựu (Life of Ms Luu) and Tô Ánh Nguyệt (Ms To Anh Nguyet), which are considered canons of cải lương, a Vietnamese drama originating in 1918, developed in the Cuu Long (Mekong) River Delta region," Phan Quoc Kiet, deputy director of Tran Huu Trang Theatre, said.
"Our new shows will target young audiences. We want to encourage audiences to learn more about Vietnamese history and culture through theatre," he said. "We will offer free shows at weekends at our theatre and cultural houses for rural residents in districts 1, 3, 5, 8, Phu Nhuan and Binh Thanh."
The theatre began to hire staff and investment for these special shows early this year.
Last year, the city also launched a free traditional theatre programme on Bui Vien walking street in District 1 to introduce cải lương and hát bội to foreign visitors.
The programme, Giới Thiệu Nghệ Thuật Hát Bội (Introducing Hat Boi), featured 20 young performers trained by People's Artist Dinh Bang Phi.
They stage twice a month on weekends.
Each 60-minute show of the programme offered three extracts from historical plays by famous authors such as Dao Tan, Tong Phuoc Pho and Nguyen Hien Dinh.
"Our actors are young, but their performances left a very strong impression on foreign audiences," said Phi, who has more than 45 years of experience in the art.
The first show of the department's new free theatre programme for young people will be staged on August 3 at Tran Huu Trang Cai Luong Theatre on 515-517 Tran Hung Dao Street in District 1.
VNS