The Factory Contemporary Arts Center in District 2, Ho Chi Minh City will host an exhibition on marriage life by artist Vo Thuy Tien from May 10 to July 21.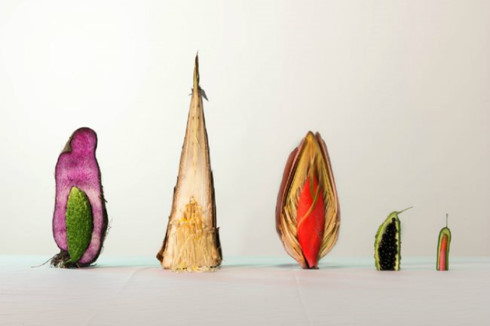 Some of Vo Thuy Tien's works that will be on display at the "My marriage" exhibition - Photo: Courtesy of organizer
The "My marriage" show is an ongoing project by Tien, which delves into the different layers of the artist's personal life, and explores ideas of marriage and motherhood, domesticity and family, and the complexity of love and relationships.
In Tien's own experiences, these themes are given shape through the usage and collage of images of fruit and objects, some of which are considered highly symbolic in Vietnamese cultural life. They appear in works of photography and sculpture and moving images throughout the exhibition.
Betel nuts, betrothal gifts that a groom offers to his bride's family, are shown with photos of grapefruit, papaya and banana, which represent the power of youth and fertility.
While sticks of incense, a ritual object used to connect the spirit world and the living world, appear alongside a wedding dress and dinnerware, representing kitchen chores, a domestic task that is still today mainly done by women.

The works' color palette, from blood red, baby pink, to cool blue and neutral white, indicates the emotions and states of being, which anyone would have to endure in their own life, or in Tien's case, in her own journey of marriage.
"My marriage" is the first in the 2019 edition of "Materialize'", a program that aims to provide exhibition opportunities for Vietnamese artists who have had little chance of exhibiting their artworks in Vietnam.
Artists are challenged to extend their experimentation with concept and media beyond their training and general assumptions about art. This program is open for application to artists born and currently living in Vietnam and over the age of 25.
Tickets cost VND40,000 per adult and VND30,000 per student. Admission is free for children under 16 years old. There is no entrance fee on the opening night on May 10.
Saigon Times