For the first time, art lovers in Hanoi will have a chance to see paintings by Truong Van Y at the exhibition Tranh Lụa Hội Ngộ Bắc Nam (North-South Meeting Silk Painting).
Art exhibition features countryside artist
Vietnamese artists honoured at Seoul exhibition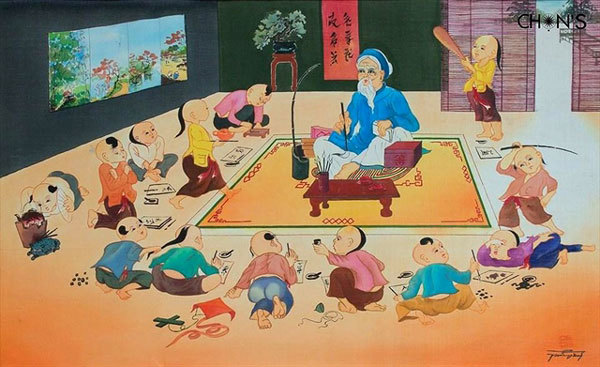 Silk painting Trường Xưa (School in Memory) by veteran artist Truong Van Y. Photo courtesy of the artist
Artist Y of HCM City is well-known for his silk paintings. His drawing style is simple but contains warm emotions which are typical of the southern delta region.
The exhibition includes more than 20 new and old silk paintings by Y.
The painting Trường Xưa (School in Memory), a watercolour on silk depicting a class with an old teacher.
In the painting, the teacher sits in the middle surrounded by his students. Most of the students are bending over to practise writing. In a corner, a bad student is being punished. The painting reflects the teacher's respect for the moral and studious spirit of the Vietnamese people.
The colour of the painting is similar to those in Dong Ho folk paintings and has many lovely and interesting features.
Last month the painting sold for US$3,000 at an auction held by Chọn Auction House.
"For those who love silk painting in the 1960s and 1970s, they cannot forget the works of the silk paintings of artist Y," said collector Truong Nhuan.
"These colorful silk paintings bear the image of the homeland's soul and are part of people's memories," he said. "The light and strong strokes in his paintings seem to be influenced by Chinese watercolour paintings. But artist Y has his own unique style drawing on silk."
Like many other artists who paint on silk, artist Y focuses on the topics of young women and peaceful Vietnamese village scenes.
The artist was born in 1935 in HCM City. He graduated from the National Fine Arts School in HCM City and was head of the HCM City Fine Arts School. His Tóc Huyền (Jet-Black Hair) won Special Prize at the International Silk Painting Exhibition in HCM City in 1966.
He took part in training courses in Tokyo in 1966 and in Taiwan in 1973. The exhibition runs until August 9 at Chọn Auction House on 63 Ham Long Street in Hanoi.
VNS