The HCMC Ballet, Symphony Orchestra and Opera (HBSO) is presenting an all-Mozart evening at the Saigon Opera House on June 8, in honor of one of the greatest musical geniuses there has ever been.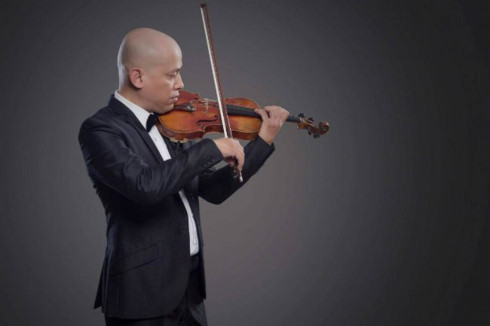 Violinist Nguyen Cong Thang will perform at the concert - Photo: Courtesy of HBSO
Mozart only lived for 36 years, but he began early, as a child prodigy famous all over Europe and performing before monarchs.
He is certainly in the running for the title of the greatest of all composers. Beethoven and J.S. Bach may also be contenders, but both were closely connected with Mozart.
Mozart made a close study of Bach's music, and Beethoven acknowledged his debt to Mozart for several of his compositions.
All three flourished in European music's "classical" period, an era when the development of music reached a peak of perfection, and before the onset of the more varied "romantic" era.
The HBSO program will include the overture to Mozart's early opera Die Entfuhrung aus dem Serail ('the escape from the seraglio'), his exquisite concerto for violin and viola known as the Sinfonia Concertante, and his Symphony Number 35, known as the Haffner.
Star performers have been recruited for the occasion. The soloists in the Sinfonia Concertante will be Nguyen Cong Thang (violin) and Pham Vu Thien Bao (viola), while the evening's conductor will be Honna Tetsuji.
Nguyen Cong Thang has performed in countries such as Austria, Spain, France, Italy, the UK and Thailand, Pham Vu Thien Bao is Vietnam's most renowned classical viola player, while Honna Tetsuji is the Music Director of the Vietnam National Symphony Orchestra in Hanoi.
All three are instrumental works, and they will be played by the HBSO Symphony Orchestra.
Mozart's German-language opera Die Entfuhrung aus dem Serail was written in Vienna in 1782, shortly after Mozart came to live there from Salzburg.
One of the reasons it was in German, the language of Vienna and most of the Austro-Hungarian Empire, was that the emperor, Joseph the Second, was enthusiastic about developing opera in his native tongue rather than in Italian, the usual language for operas in those days.
Mozart's Sinforia Concertante is called this because it combines the characteristics of a symphony and a concerto, though in this case a concerto for two instruments.
It is one of Mozart's most loved works, with its slow second movement being especially enchanting in the way it interweaves the two solo instruments.
This movement has been used or referred to in several subsequent films and works of literature.
Mozart's Symphony Number 35 is called "the Haffner" because it was commissioned by the eminent Haffner family of Salzburg, Mozart's home town, to celebrate one of its members being created a member of the nobility in 1782.
It is in four movements, as was normal for symphonies. But when it was first performed, in the Burgtheater in Vienna in 1783 in the presence of the Austro-Hungarian emperor, Mozart stopped after the first three movements, performed several other pieces including a complete piano concerto, then ended the concert with the Haffner's final movement.
All three works to be presented in Saigon on June 8 were written in close proximity, in what can be called Mozart's early middle period.
Tickets are from VND300,000 to VND650,000, with a concessionary rate of VND80,000 for students. This very special event begins at 8 p.m.