Thousands of people flocked to the annual bazaar hosted by the Hanoi International Women's Club (HIWC) yesterday in a new urban area in western Hanoi – enjoying fun, sun and wind.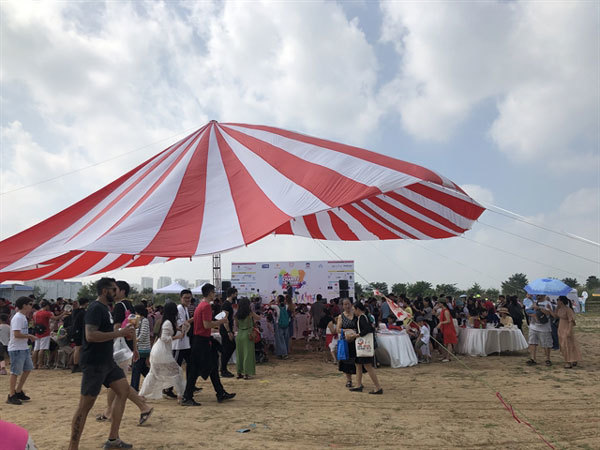 People flock to the bazaar. 

The 27th edition of the event was themed 'Colour the Future' and featured dozens of booths run by embassies and diplomatic corps, charity organisations and businesses.

Adults and children from various countries came to introduce their cultures, products, seek more partners and simply have fun for a noblepurpose – charity. All profits from the event were donated to the HIWC for its charity programmes.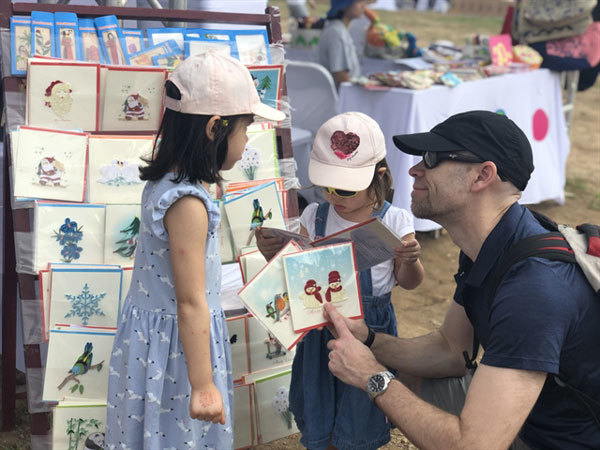 A father and two daughters choose handmade cards at Thuong Thuong Handmade's booth.
Karen Price, an expat from Australia, came to the event with her husband and two daughters.
"We had lots of fun here last year," she told Việt Nam News. "And this year we came again.
"I think this bazaar is a great chance for people to entertain, meet one another and to shop," she said.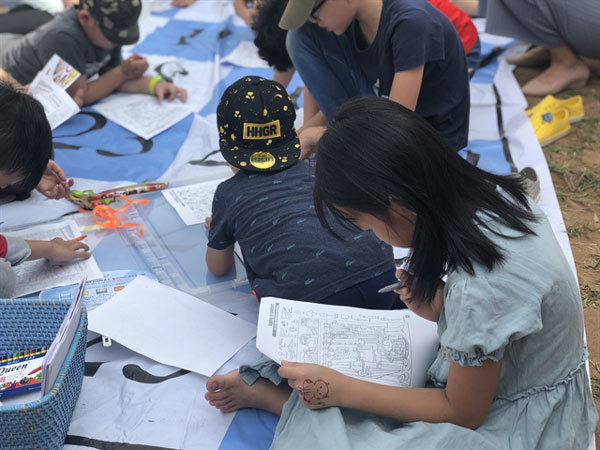 Children paint at the event.

Nguyen Thi Thu Thuong, who suffers from osteogenesis Imperfecta, or brittle bone disease, came for another purpose.
Having started a social enterprise to make handmade products from paper, she brought her products to introduce to foreigners.
"I hope to advertise our delicate products like bookmarks, cards and paintings to foreigners, especially diplomatic corps and embassies so they can buy to bring home as gifts," she said while sitting at her booth.
Thuong, who is only 80cm tall, 20kg heavy and cannot walk, has trained dozens of people in need and with disabilities in the past 10 years.
Her Thuong Thuong Handmade social enterprise now has 13 workers earning a steady income.
"Our products have been sold a lot in the country and exported," she said. "I join this bazaar every year hoping to seek more partners."
At another part of the bazaar, Sri Lankan Shane Kelly, Front Office Manager of Donkey Bakery, was busy introducing his products to guests.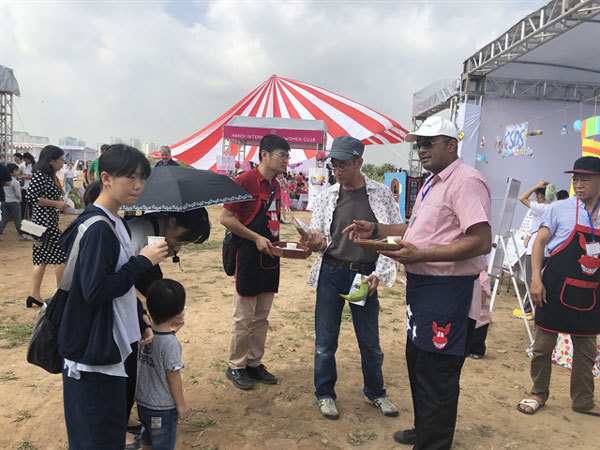 Shane Kelly (first from right) introduces food and drink by Donkey Bakery to customers.
"We made a lot of drinks from herbs, flowers and fruits in Vietnam that even many Vietnamese do not know," he said. "They are all-natural and healthy."
Louise Holmsgaard, from the Danish embassy, said this year the embassy worked with Danish companies Carlsberg selling beer and Jysk selling Christmas decorations.
"We expect to have a great day with our families, friends and colleagues to buy some Christmas gifts and to support very good projects helping women and children in Vietnam," she said.
"I think it's a very nice event to meet friends and colleagues,"" she said. "There are foods from different countries. So we enjoy ourselves so much."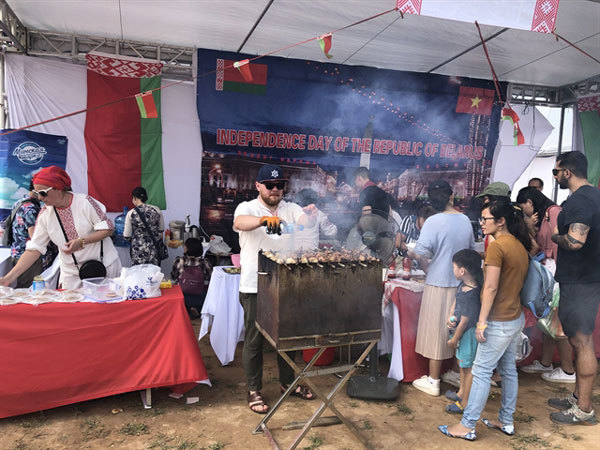 The food offered at Belarusian embassy's booth.

Konstantina Kolovou, the Greek President of the HIWC, said this year all the organising was done by volunteers. The event also received support from embassies and diplomatic corps in Hanoi.
"The first bazaar was first organised in a hotel room," she said. "Twenty-seven years later, we have an amazing bazaar gathering more than 10,000 people, who are volunteers, guests.
"I think it's a unique event once a year in Hanoi, where you can find anything: support charity, food from different parts of the world, do your shopping, have amazing entertainment, all from volunteers," she said.
"We give back something to unprivileged women & children in Hanoi," she added.
Kolovou said the club expects to raise more than US$100,000 to be distributed to different charity programmes after the event. The club has supported a lot of projects including Care for Children, Hoa Sữa School and YWAM Mercy Vietnam.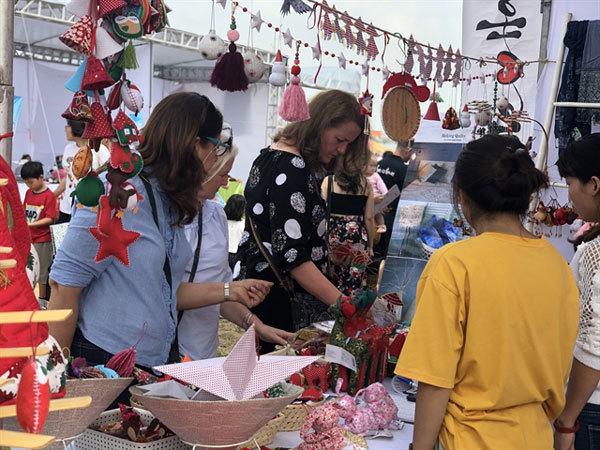 People choose handmade decoration at Mekong Quilts' booth.

The HIWC is a non-profit organisation founded in 1986, which at first gathered only women involved in diplomacy.
Now the club has more than 300 members from some 60 countries. VNS
Le Huong

The Hanoi International Women's Club (HIWC) will host its 27th annual charity bazaar on Sunday, November 17.