The central city has recognised the Hoang Sa (Paracel) Museum as a new destination on the tourism map just 22 months after the museum opened to the public.
Sunken shipwreck to display at Hoang Sa Museum
Hoang Sa Museum makes case for national sovereignty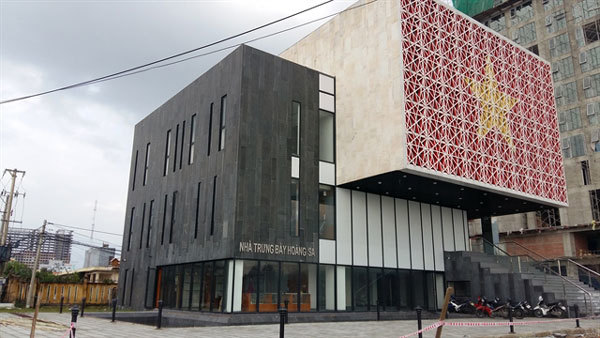 Hoang Sa (Paracel) Museum is built on coastal Hoang Sa road in Da Nang. The city has recognised the museum as a new destination. 

The city asked the Hoang Sa (Paracel) Island district and relevant agencies to set up the best conditions and facilities in serving tourists visiting the museum.
The museum, built on nearly 1,300sq.m along coastal streets of Hoang Sa-Truong Sa-Vo Nguyen Giap in the Son Tra Peninsula, is a significant landmark for showing artifacts, legal evidence and documents on Vietnam's sovereignty over the Hoang Sa (Paracel) and Truong Sa (Spratly) Archipelagos.

Secretariat of Hoang Sa Island District's Le Phu Nguyen said the museum also reserves a collection of 150 maps published between 1618-1859, and 1626-1908. Of which, many show evidence that the Paracel and Spratlys archipelagoes belong to Vietnam, and 102 books published in English, German, French, Spanish, Italian, Dutch and Hán (Chinese script) showing the frontier of Southern China is Hainan Island.
He said the museum is also a historical education site for students and tourists studying Hoang Sa Archipelago history with ancient documents and artefacts.

A textbook on Vietnam's sovereignty over the two archipelagos was included in the curriculum at junior secondary and high-school education system in the city since 2016.
Last year, the Hoang Sa Islands district displayed a shipwreck in the museum's front yard. The DNa 90512 fishing vessel was rammed by Chinese boats in Vietnamese waters off the Hoang Sa Archipelago in 2014.
According to the Hoang Sa District People's Committee, 12 people in Da Nang had lived, worked and fought for the archipelago from 1959-1974. Hoang Sa was illegally seized by Chinese forces on January 19, 1974.
In 2017, American-Vietnamese collector, Tran Thang, donated to Hoang Sa Island District the Pattie De La Conchinchine, an 1827 map printed in the six-volume World Atlas by late Belgian cartographer Phillippe Vandermaelen.

The Pattie De La Conchinchine map indicated the central region was part of Annam (a French protectorate encompassing the central region of Vietnam) and Hoàng Sa (Paracels) was under the sovereignty of Vietnam from at least the 19th century onwards.
The museum also features articles, documents and photos on the illegal oil drilling by Haiyang Shiyou-981 oil rig (HD-981) in Vietnamese waters off the Hoang Sa Archipelago in 2014.

Da Nang has recognised some official destinations including the Marble Mountains, Ba Na Hills, Son Tra Nature Reserve, My Khe beach, Da Nang Museum, Cham Sculpture Museum and Stone sculpture village of Non Nuoc.

The Hoang Sa Museum hosted 45,000 tourists since March of 2018. — VNS