Hoang Thuy Linh earned four nominations, including song of the year and music video of the year, for Để Mỵ Nói Cho Mà Nghe (Let Me Tell), leading the competition for the 15th Devotion Music Awards.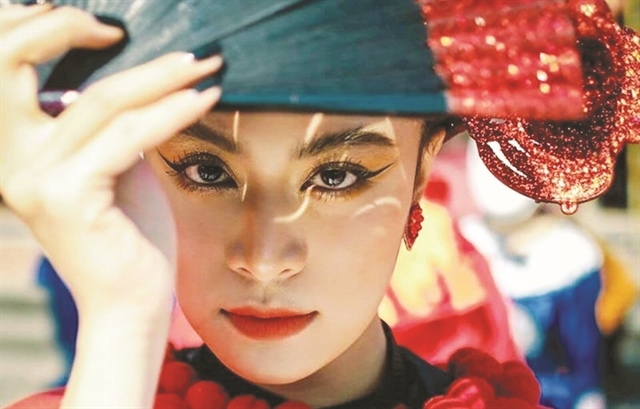 Hoàng Thùy Linh is one of the singers with the most nominations at the 15th Music Devotion Awards. Photo vietnamplus.vn

The award is held by Vietnam News Agency's Thể Thao & Văn Hóa (Culture & Sport) daily to honour music producers and artists who have made significant contributions to the industry.
"The Devotion Music Awards is my dream," said Linh.
"It is not easy to be recognised by the awards. It is not only a fruit of hard work but it is also meaningful to the community and contributes to developing Vietnamese music.
"I'm happy and proud of having four important nominations at the prestigious awards."
Linh is one of the outstanding artists in 2019 with the success of the song Để Mỵ Nói Cho Mà Nghe (Let Me Say). 
The pop song was composed by DTAP team about a young girl who loves freedom and doesn't want to get married at young age.
The lyrics are vivid and funny, inspiring listeners to sing along. The music video for Để Mỵ Nói Cho Mà Nghe was launched last June, using Vietnamese classical literature works such as Lão Hạc (Old Man Hạc), Tắt Đèn (Turning Off Light) and Vợ Chồng A Phủ (A Phủ Couple). 
"Để Mỵ Nói Cho Mà Nghe swept the music charts right after it was launched," said reporter Ngô Bá Lục. 
"The song is popular from coffee shops to classrooms. The video producers were creative to make good use of literary material. In 2019, Linh has made an effort to be successful with several music productions showing her creativity."
Launched last October, Hoàng is a unified concept album about a young woman who experiences many ups and downs in her life. The album received positive reviews in national music publications, on Facebook and on blogs.
Both the melodies and the lyrics were highly appreciated.
"She is good and brave," veteran reporter Chu Minh Vũ wrote on Facebook. "She is smart in chosing the way to develop her music. Hoàng harmonises her own identity and taste of the audience."
The album combines electropop and electronic dance music, according to Billboard Vietnam. 
"The product highlights folklore materials such as fairy tales, proverbs, literary works and religion. It is still modern and joyful."
All songs on the album rank in the top ten on both iTunes and Spotify Vietnam. 
Linh is the most award-winning individual of all time, with a total of eight awards for best song; best music video; the best singer and others.
Làn Sóng Xanh is a radio programme launched by the Voice of HCM City (VOH) radio station in 1998 to promote Vietnamese music. 
Last year, Linh was named Best Asian Artist Vietnam at South Korea's 2019 Mnet Asian Music Awards. The video additionally featured her hit Để Mỵ Nói Cho Mà Nghe influenced by Vietnamese literary popular works.
Born in 1988, Linh graduated from Hà Nội Academy of Cinema and Theatre. She is also an actress, having starred in television series and motion pictures such as popular teenager series Nhật Ký Vàng Anh (Vàng Anh's Diary) and Thần Tượng (Idol).
Her autobiography entitled Vàng Anh & Phượng Hoàng (Oriole & Phoenix) was released in 2018.
This is the second time Linh has been nominated at the Music Devotion Awards. Last time, she got one nomination for best music video. 
The 15th awards ceremony will not be held due to the COVID-19 pandemic. The winners will be announced on March 25. VNS

Popular singer Hoang Thuy Linh been named Best Asian Artist Vietnam at the Mnet Asian Music Awards (MAMA) 2019.

Hoang Thuy Linh, a renowned Vietnamese singer, is scheduled to perform at the ABU TV Song Festival, set to take place in Tokyo on November 19.