A cultural exchange festival between the central city of Hoi An and Japan will take place in the city's ancient quarter and An Hoi statues park from August 9 to 11.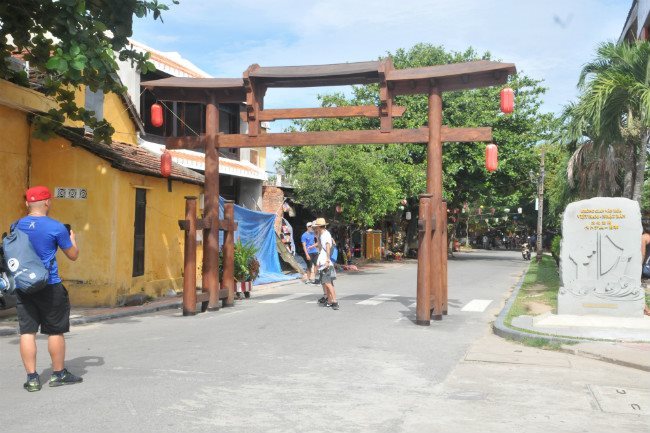 The welcoming gate of Hoi An pedestrian street, where main events of the Hoi An-Japan cultural exchange festival will take place 
There will be a wide variety of cultural activities such as photo and painting exhibitions, handicrafts fair, Japanese calligraphy classes, traditional art performances, Yosakoi dance, cosplay shows, Shakuhachi flute performance, sporting events, and Hoi An traditional market.
Visitors can also learn how to make lanterns, origami decorations, and toys from coconut leaves.
Highlight of the program will be a reenacted wedding procession of Princess Ngoc Hoa and Japanese trader Araki Sotaro on the Hoai River on August 10 and 11, starting from 4:30 p.m.
The opening ceremony will be held at An Hoi statues park on August 9, starting from 8 p.m. The show will feature singer Ueno Yuka and Kolme band from Japan and Vietnamese singer Duc Phuc.
The Hoi An-Japan cultural exchange festival is aimed at strengthening the relationship between Vietnam and Japan, and promoting the image of Hoi An, which was named the Best City in the World by American travel magazine Travel + Leisure. SGT
Nhan Tam

Located at 101 Nguyen Thai Hoc Street in the Old Quarter of Hoi An's Ancient Town, the Old House of Tan Ky is an almost perfect example of a home of an 18th century merchant in the major commercial port town.  

More homestay services in Hoi An Town are losing customers.