About 300 artists will perform at a concert entitled Vui Ca - Sing for Joy at Hanoi Opera House on November 30.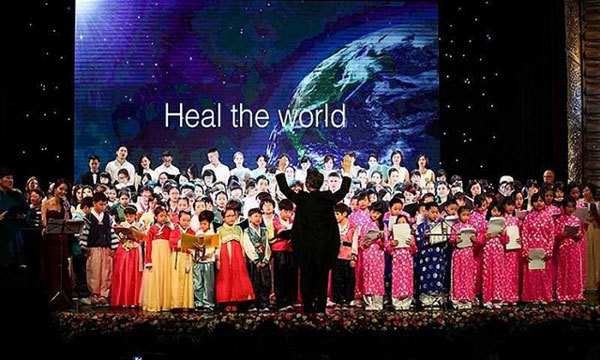 Hanoi Korean Children's Choir performed at Vui Ca - Sing for Joy concert in 2015. — Photo organisation board
The artists are from different choirs in Hanoi, including Miracle Choir and Orchestra; Hanoi Voices Choir; Hanoi Catholic Youth Choir; Hanoi Korean Children's Choir and Korean Senior Choir.
With theme Connection, the artists will perform pieces including The Armed Man: A Mass for Peace; Heal the World; Vietnamese Chiếc Khăn Piêu (Piêu Scarf) and South Korean Onara.
"We believe that humans feel happiness when they know they belong to a community where they have a connection," said pianist Trang Trinh from the organisation board.
"Music is a wonderful material to create the connection. We want this concert to invite people to come to a beautiful moment of connections people can create from music."
Vui Ca-Sing for Joy 2019 will raise funds for the Miracle Choir and Orchestra, which is a musical project for underprivileged children.
The project was initiated in 2013 by tenor and conductor Park Sung Min and pianist Trang Trinh aiming at underprivileged children in Hanoi with a view to making positive changes in the lives of those children through music education.
The project has expanded with more music classes for violin, piano, percussion and guitar since 2015.
The concert will be led by Korean conductor and artistic director of the National Chorus Korea. Puppetry troupe Mắt Trần (Naked Eye) will perform at the concert.
The concert has been held in Hanoi in 2015 and 2017. Tickets are sold at VND250,000 (roughly US$11) to VND1,500,000. Please call 0389464820 for further information.

Nguyen Thi Hai Yen, the conductor of Da Dang (Diversity) Choir, has persisted with bringing opera and chorus closer to audiences as well as making opportunities for non-professional art practitioners to perform as real artists.  

A concert to raise funds for underprivileged children will take place at Hanoi Opera House on September 25.

Thanh Quang Minh is a construction engineer in HCM City, but that hasn't dampened his passion for bolero music.
VNS