Pianist Adam Balogh of Hungary will give a recital at the HCM City Conservatory of Music that will include Improvisations on Hungarian Peasant Songs, Op 20 by composer Béla Bartók.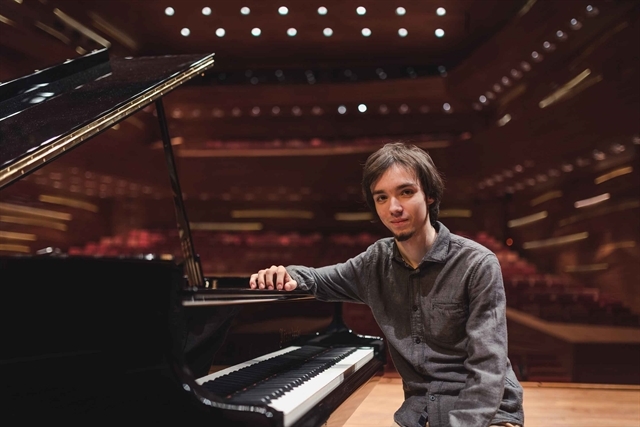 Hungarian pianist Adam Balogh will give a recital of famous classical compositions by European composers at the HCM City Conservatory of Music on Friday. Photo from artist's official website
Completed in 1920, the eight-movement work for solo piano by the Hungarian composer will be performed at a concert organised by the conservatory and the Consulate General of Hungary in HCM City on October 4.
Balogh will open the concert with Chopin's Mazurkas, Op 59, a set of three mazurkas for solo piano based on traditional Polish dances composed in 1845.
The 22-year-old pianist will continue with Gaspard de la Nuit (Devil of the Night), a suite of piano pieces written by Maurice Ravel in 1908.
The three-movement composition is based on a poem from the book of the same name by French poet, playwright and journalist Aloysius Bertrand. The work premiered in 1909 in Paris.
The concert will also feature Ballades, Op 10, four piano pieces written by Brahms in 1854.
Born into a family of musicians, Balogh began playing piano at the age of seven. He studied at the Franz Liszt Music Academy in Budapest, and has taken lessons with Dimitry Bashkirov, Zoltán Kocsis and Arie Vardi.
He has received awards in national and international competitions, including the Chopin Competition in Hungary, Cliburn Junior Competition and New York Concert Artists & Associates' Worldwide Debut Audition in the US.
Balogh made his orchestral debut at the age of 13 with the Budapest Festival Orchestra under the baton of Ivan Fischer.
He has performed in Europe, the US and Israel, and with various orchestras, including Berlin Konzerthaus Orchestra, NYCA Symphony Orchestra, Concerto Budapest and Franz Liszt Chamber Orchestra, among others.
In 2017, Balogh received the Junior Prima Award from the Prima Primissima Foundation and partners that rewards talented people under the age of 35 in the fields of science, music, folk art, theatrical arts and media.
He also received the Junior Award of the Tuke Foundation of Pecs given to prominent young citizens of his hometown.
The concert will begin at 8pm at the Conservatory's Concert Hall at 112 Nguyen Du Street in District 1. VNS