A South Korean publisher has acquired the copyright of the book "I am Beto" by the popular writer for teenagers Nguyen Nhat Anh.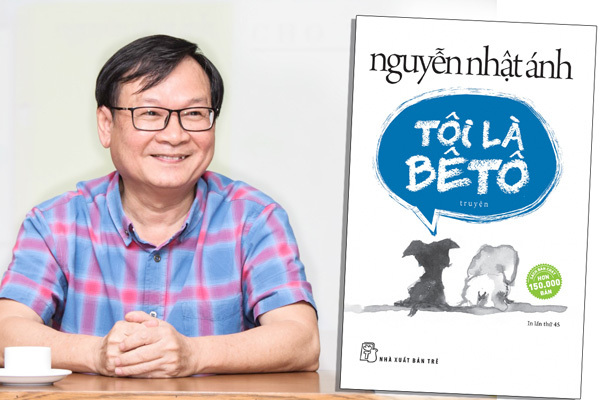 Writer Nguyen Nhat Anh.
According to the Tre (Young) Publishing House, the copyright representative of writer Nguyen Nhat Anh, a contract was recently signed with Korea's 59mins Publishing House, under which "I am Beto" will be translated into Korean by translator Jeong Yekang and published in South Korea in early 2022.
"I am Beto" is the second work by Nguyen Nhat Anh to be published in Korea after "Cho Toi Xin Mot Ve Di Tuoi Tho" (Give Me a Ticket to Childhood), which was published by Dasan Books Publishing House in 2013.
"I am Beto" was published for the first time by Tre Publishing House in 2007. Beto is an intelligent, mischievous, emotional and empathetic dog. When the work was released, it immediately impressed readers and experts for an innovative and creative writing style, as well as its humanistic meanings. "I Am Beto" is suitable for both children and adult readers.
Many books by Nguyen Nhat Anh have been translated and published in many countries around the world.
In 2020, Nikkei Publishing House and Daido Life Foundation bought the copyright of "Give Me a Ticket to Childhood" and "Di Qua Hoa Cuc (Go through the chrysanthemum) to publish in Japan.
Earlier, "Mat Biec" (Blue Eyes) and "Toi Thay Hoa Vang Tren Co Xanh" (I See Yellow Flowers on Green Grass) were published in Japany by the Terrainc Publishing House in 2004) and Canaria Publishing House in 2017.
"Give Me a Ticket to Childhood" was translated and published in Thailand in 2011 by Nanmee Books and in the US in 2014 by Overlook Press.
In addition, "I See Yellow Flowers on Green Grass" was published by Hannacroix Creek Books in the US in 2020.
Several works by Nguyen Nhat Anh have also been taught in schools in other countries. For example, "Give me a ticket to childhood" was selected in the list of after-school reading works of students from grades 6-12 of many schools in Thailand. This book is also included in the list of works that second-year students of the Literature Faculty of Chulalongkorn University (Thailand) can choose to write graduation essays about.
Another work - "Co Gai Den Tu Hom Qua" (The Girl From Yesterday) - has been used to teach the Vietnamese language at M.V. Lomonosov University in Russia since 2012.
Tinh Le

Books by young writers in HCM City recently issued by Trẻ (Youth) Publishing House, one of the country's leading publishers, are leaving an impression on young readers.