The Vietnam Fine Arts Museum (VFA) and Vietnam Mobile Application Software Join Stock Company (VINMAS) on Thursday officially launched the iMuseum VFA app – allowing virtual visits to the museum even amid the COVID-19 pandemic.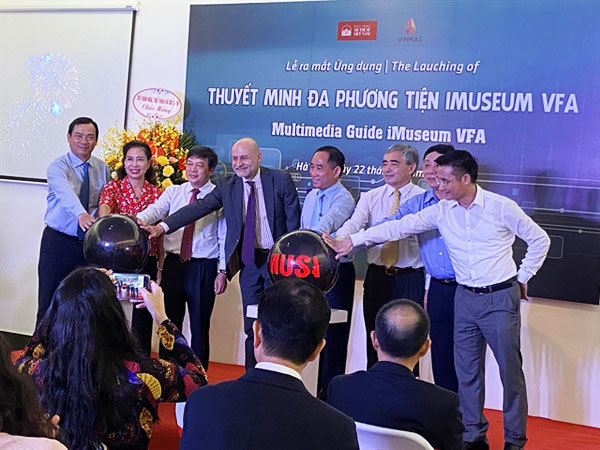 The iMuseum VFA app allows virtual visits to preserve and promote cultural heritage. 
This is a multimedia application including high quality audio, text and photos, helping users visit online or directly at the VFA. The app is on both Android and iOS platforms, using QR codes and iBeacon locating technology.
iMuseum VFA includes features that help users view high-quality images, listen to the introductions, see the locations of exhibits, view the diagrams and see visited rooms.
With a ticket containing a QR code (VND50,000 or US$2.1), users can use the app for eight hours. Currently, iMuseum is provided in eight languages including Vietnamese, English, French, Chinese, Japanese, South Korean, Spanish and Italian. German and Russian languages will be added soon.
Speaking at the launching ceremony, Nguyen Anh Minh, VFA's director said: "Digital transformation has been a vital trend in the Fourth Industrial Revolution. The app, which aims to improve visit quality for tourists, has introduced information and technology to preserve and promote cultural and artistic heritage."
After two years of studying and developing both content and technology, iMuseum VFA was tested in December.
Ando Toshiki, Director of the Centre for Japanese Cultural Exchange in Vietnam, said: "I am very impressed with this app, especially the way information is presented in both spoken and written languages. Visitors can enjoy and understand the details and intentions of authors through interesting works of art."
VFA is one of the national museums with the most important positions in preserving and promoting cultural and artistic heritage treasures of the Vietnamese ethnic communities. The museum holds more than 20,000 artifacts, which are vivid evidence for the development of Vietnamese fine arts from pre-history to the present day, including nine national treasures.  
VNS

The Vietnam Fine Arts Museum has held an exhibition on "Discovering the architectural heritage of the One Pillar – Dien Huu Pagoda from the Ly Dynasty through Virtual Reality technology", developed from research results of the SEN Heritage group.

Not only display pictures and movies, museums have nowadays applied digital technologies which are opening up new dimensions of the museum experience to attract visitors especially youngsters who are inclined to learn about history in museums.