Writer Nguyen Thanh Nhan has translated more than 30 books into Vietnamese. He recently introduced two new translations, Thomas Hardy's The Return of The Native and Virginia Woolf's Jacob's Room.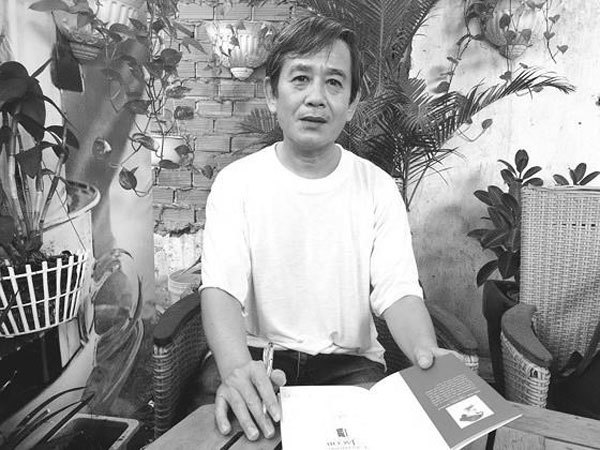 Writer Nguyen Thanh Nhan
Quynh Yen interviews Nhan about the relationship between translation and writing.
In a short time you have translated many important works to readers. What motivates you to work so hard?
It's partly the fact there are many classic works that have not been translated into Vietnamese. Not only me but other translators, even if we spent our whole life working we couldn't translate everything. I can't wait to introduce many works to Vietnamese readers.
In addition, in the past two years, the reason my translation works have been published is thanks to the support of the HCM City General Publishing House.
When I finished translating a book and sent it to the publishing house for printing, it is always accepted.
When you translate a book what do you focus on?
Each work has different ideological issues and my mission is to convey the message of the writer. Each writer has his/her own style. When translating I try to keep their style. But if the case is too complicated I have to make it clear.
There are sentences I understand when I read them. But if I stick to the origin to translate into Vietnamese, it will be difficult for readers to understand.
Even the writers themselves, sometimes they cannot control their thinking. It makes their ideas vague and confusing.
As I read I try to understand what the writer wanted to say and then reinterpret the sentence.
In fact, a writer also has to change his/her style. His/her style is not consistent from the beginning. Virginia Woolf is an example. She changed her style a lot.
Of course, there is still a mainstream style but going into details will see changes and differences. So with translation, there is no principle that is immutable. But it needs to be flexible. There are places where I have to cut or add to make it better.
Do you think translation is a second act of creativity?
It is also creative but only to a certain extent. When translating, I try to convey as close to the message of the original as possible. Creativity here is only technical, and the idea is still the writer's. The work itself is good, whether translation is good or not depends on the translator's ability.
You are also a writer. Does this help you in translating?
I think good translation depends on the translator's style. The writer's style is not discussed, but if the translator is also a writer, it will bring many advantages.
As a writer I can be flexible in the translation process. When the translator is a writer, the vocabulary will be more abundant. I can use other synonymous.
On the other side, how does translation help you in writing?
It has two aspects, benefits and harms. The advantage here is that I learn about methods. But the harm is learning too many methods makes me confused and I don't know which method to use.
If you want to practice a certain skill it takes time. It's the same with literature. If a certain method to write and rewrite a book is not successful, you must write another book.
What do you think about those that say you peaked with Mùa Xa Nhà (Season Away From Home)?
This novel is my peak because after that I have only written short stories and essays. Actually, now I'm bored when I mention it. It's like I have done nothing but it. I still want to write something more than the previous one and am still trying.
Returning from the battlefield in Cambodia was a valuable experience. But you have only written one novel on the subject. Will you come back to this topic in the future?
For me, writing one novel like Season Away From Home is enough. I do not want to write any more works related to the war.
Of course, the work is my perspective, those who have fought before, they will have different perspectives.
For me, what I need to say, I said in the Season Away From Home, how I feel about the readers, I can't control it. This is beyond the control of the author. If a few dozen years are still remembered, I would like to be thankful for my life very much.
My next direction is to write about post-war topics, also about soldiers but not in the battlefield but in social life.
VNS