Some 1,000 artists will participate in the sixth Vietnam International Choir Competition in Hoi An City from May 15 to 19.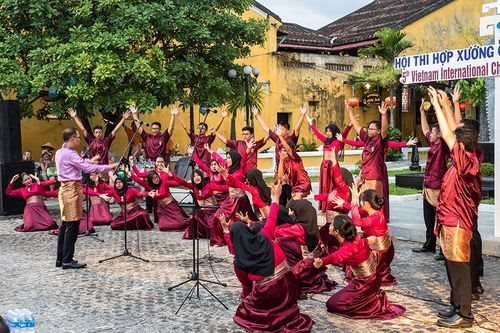 A choir performs at the previous Vietnam International Choir Competition - PHOTO: COURTESY OF ORGANIZER
They come from over 20 choirs of 10 countries – China, Estonia, Indonesia, South Korea, Malaysia, the Netherlands, the Philippines, Singapore, the U.S. and Vietnam.
The event is jointly held by the world's leading organizer of international choir competitions and festivals Interkultur and the government of Hoi An City, according to the Vietnam News Agency.
The opening ceremony will be held at the Hoi An Theatre on May 15, followed by major competitions at the Hoi An Beach Resort on May 16 and 17.
The teams will compete in men's, women's and mixed categories for chamber music, hymns and folklore. Children's and youth choirs' competitions will also be arranged.
The winners of each category will participate in the Grand Prize Competition on May 18 to vie for the Hoi An Choir Prize 2019.
The teams will then join a parade through the ancient town and the Choir Party and Hoi An Legendary Night on the evening of May 18. The choirs will get together to sing and dance, while lanterns are lit throughout the city and local food is served.
Particularly, the participating choirs will perform at friendship concerts, which will take place during the festival at public venues such as churches, squares, parks or museums.
Vo Phung, director of the Hoi An City's Center of Culture-Sports and Radio-Television, said the biannual Vietnam International Choir Competition is a cultural event that contributes to promoting the city's tourism, culture, and heritage.
This true celebration of choral music is also a chance for Vietnamese artists to meet and share experience with internationally acclaimed choirs from around the world. SGT