Sixteen Vietnamese and international fashion designers and fashion brands will take part in the Aquafina Viet Nam International Fashion Week (AVIFW) Spring-Summer 2019 in HCM City from April 11-14.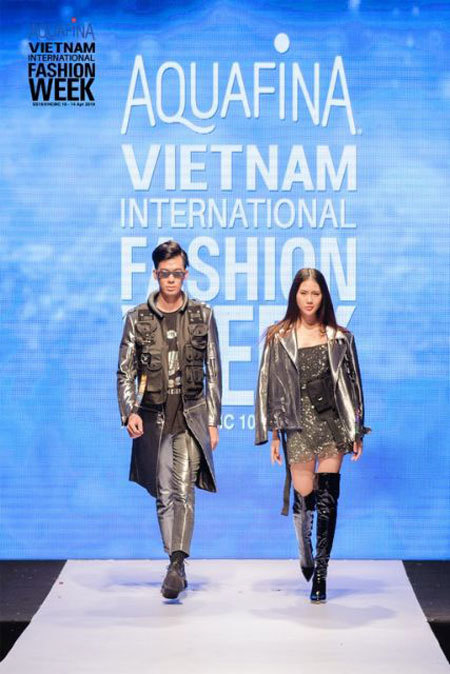 Young designer Chung Thanh Phong will open the Aquavina Việt Nam International Fashion Week with his latest collection called "MEUW Gene" for his brand MEUW Menswear. — Photo courtesy of the organiser
The catwalk event will feature around 1,000 designs made with high-quality materials, including metallic fabrics, silk, organza, lace and velvet with hand-embroidered patterns.
Trang Le, AVIFW president said the event, "Shape the Future", would "aim to elevate the status of Việt Nam fashion in the global fashion industry".
"This year, we will have a group of designers from the Puglia Region in Italy, which will ensure the fame of AVIFW to the world. We will see the participation of one of the leading international footwear industry trade fairs, MICAM, which will offer a series of interesting workshops during the event," she said.
The fashion week will open with a presentation of designer Chung Thanh Phong, 31, who has six years of experience in the fashion industry and owns three brand names RIN by Chung Thanh Phong, Chung Thanh Phong Bridal, and MEUW Menswear.
Phong will bring his latest collection called "MEUW Gene" for his brand MEUW Menswear. He will use metallic fabrics with new technology to manufacture "one-of-a-kind" designs.
Phong said: "It's my honour to be chosen to open this year's Aquafina Viet Nam International Fashion Week. Through my collection, I want to assert myself in the country's fashion industry."
Ao dai designer Minh Chau, who will join the fashion week for the first time, will bring to the event a collection of black ao dai (Vietnamese traditional dresses) to honour the beauty and strength of Vietnamese women.
Chau's designs will be hand-embroidered with lace and crystal stones to make it more luxurious and modern.
Viet Tien Garment Joint Stock Company will display a collection called "Future Men" inspired from the strength of men. The designs will be made with special materials, including metallic, and dye-washed and carbon-washed fabrics, featuring unique shapes.
This year's fashion week will also feature designs by established Asian designers, Lee Sang Bong and Chung Chung Lee from South Korea, Kit Woo from Malaysia, and Frederick Lee from Singapore.
More than 50 fashion models from leading fashion and modelling agences will take part in the catwalk.
The event will be held at the Nguyen Du Gymnasium at 112 Nguyen Du Street in District 1. All of the catwalk shows will be broadcast live on television and the mobile application FPT Play.
VNS