The 10th Binh Duong International Women's Cycling Tournament, Biwase Cup, will begin on February 28, seeing a record number of stages this year.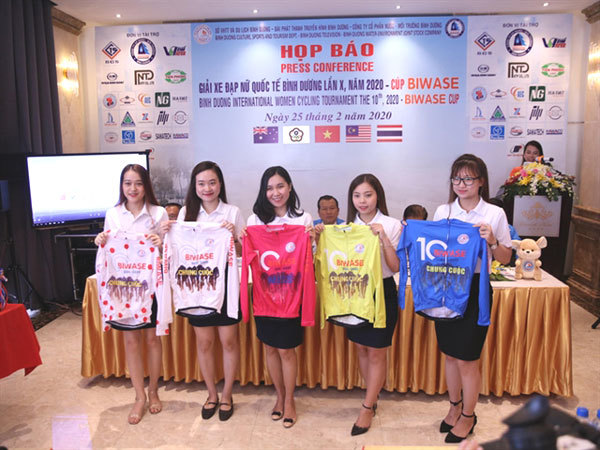 Organisers introduce five jerseys of the 10th Biwase Cup. — Photo nld.com.vn
Nearly 200 athletes will take part in 10 stages over a total of 1,051km, starting from Binh Duong Province through six other localities, before wrapping up at Thu Dau Mot City of Binh Duong on March 8.
As one of the most prestigious tournaments for women in Vietnam over the past nine years, the Biwase Cup has lured 12 international teams. However, due to the deadly coronavirus, nine of them withdrew from the event, which offers up to VND500 million in prize money for winning individuals and teams.
Three remaining teams are Velofit of Australia, Taiwan Cycling Team and the national team of Thailand. They will vie with eight local crews which include Loc Troi An Giang Group, Gao Hat Ngoc Troi An Giang, TP.HCM – Mega Market and Biwase Binh Duong.
Individuals will compete for five jerseys: the yellow for the overall winner, the green for the best sprinter, the red for the Queen of the Mountain, the white for the best youngster and the pink for Miss Biwase Cup. Meanwhile the winning team will secure a championship trophy. — VNS

The Binh Duong International Women Cycling Tournament – Biwase Cup 2020, the largest of its kind in Vietnam, will kick off in the southern province of Binh Duong on February 28.