Japanese artist Yohei Yama is holding his second solo exhibition featuring paintings inspired by nature at Vin Gallery in District 2, HCM City, four years after "The Power of Semiosis" exhibition in 2015.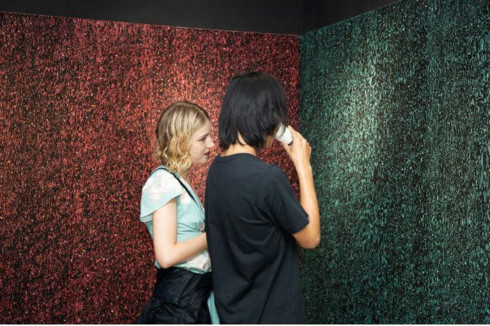 Two visitors are seen at the exhibition - Photo: Courtesy of organizer
Yama derives his works from nature, spinning the waves of the cosmos and webbing together the rhythm of natural forces.
His paintings are distinguishable by their repetition and layering of lines, color, pattern and optical effects that swell and vibrate.
The "Phenomenon ÷ (Time x Space)" show envisions the universe and its life-cycle where the future becomes the present and the present becomes the past.
Born in Saitama, Japan in 1977, Yohei Yama now lives and works in HCMC.
Originally a photographer and traveler, he staged his first solo show of paintings in Arles, France and has continued as a painter ever since.
Yama is attracted by elemental energies and his hypnotic works prove the power of art to heal.
The aftermath of the 2011 nuclear disaster in Fukushima created the motifs that characterize his works such as little trees, rays of light and winds that bridge and rebuild the bond between the artist and nature.