The 2019 Vietnamese Basketball Association (VBA) season tips off today, beginning the fourth season of domestic professional basketball.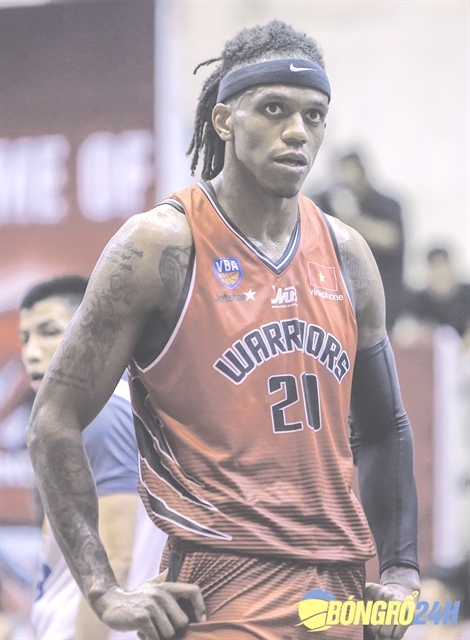 Jaywuan Hill is back with the Thang Long Warriors, with his eyes firmly fixed on the VBA finals. Phot vtv.vn
Only one foreign import player has played all three previous seasons, and he's returning this year with one goal, and one goal only.
For Jaywuan Hill and the Thang Long Warriors, it's the finals, or bust.
Finish the story
Hill began his VBA career with the Hochiminh City Wings in 2016, but for the past two seasons he's lit up the scoreboard for the Hà Nội-based Warriors.
The forward from Michigan, the US, led the Warriors to the VBA championship in the club's inaugural season in 2017, defeating the Cantho Catfish three games to two in a thrilling, back and forth series.
Last year, however, was a different story altogether.
The Warriors fired coach Matt Skillman after only one game and replaced him with German-Serbian coach Pedrag Lukic, making for a chaotic start to the season.
Speaking after a Wednesday training session, Hill said while imports like himself and heritage players (each team is allowed one foreign player and two dual national Vietnamese players) could handle changes in the coaching staff, the local players struggled initially, before coming together as a team.
"American and heritage players, we're used to that, but the Vietnamese players, because now you're going through different behaviours and they're not really used to that. And then also you have different system coming in and out , yeah it was a little bit crazy, but we found a way, we got it done because we had coach Pedrag and he came in and we won against Hanoi by one and after that we won seven, eight games in a row. So it wasn't too much of a drag at all. Everybody picked it up really quickly."
While they went on to finish the season with the league's second best record led by, they were swept in the first round of the playoffs by their local rivals Hanoi Buffaloes.
The loss clearly stung Hill, who said he wanted to return for the 2019 season to right that wrong.
"I came back to finish the story, because I lost in the semi-finals to the Hanoi Buffaloes and I didn't want to go out like that," he said.
The return
A little over a month ago, it didn't seem like Hill would get the chance to finish his story on his terms.
On April 19, he announced on his Facebook page that he hadn't been selected as one of the league's six foreign imports and wouldn't be returning to Việt Nam.
However, less than a month later, Hill had been signed by the Warriors and had returned to Hà Nội after playing a season in Hungary.
Hill said the VBA and the Warriors left his signing to the last minute, so late that he was about to sign up to play in South America.
"I thought okay they're going to go a different route and I was going to go to a different country. In my mind I was going to Venezuela, the Dominican Republic or Uruguay. And it was so late that they (other teams) had started start to send you the contracts and then the moment I was going to sign they (the VBA) called," he explained.
Such is the life of a professional basketball player outside of the upper echelons of the NBA; Hill has played in the UK, Hungary, Canada and beyond, so the uncertainty doesn't faze him, he even documents his travels on his YouTube channel.
Eye on the prize
Unlike last year, the Warriors seem to be ready to fly out of the gates this season, having won both their preseason games against the Danang Dragons and the Buffaloes.
Hill poured in a double-double in both victories, but his goals lie far beyond preseason wins.
"Finals or nothing. That's the main focus," he said.
Some analysts have questioned the likelihood of achieving that goal with only one heritage player on the roster, but Hill isn't concerned.
"I believe in my players, we're not really worried about that really, because it's team basketball, he said," adding that "This team is fine, we're all about defence. If you look at last year and for two years prior, this team is just about defence and transition."
With some players still recovering from injuries, Hill said he was confident the team could play even better.
"We're really strong this time, we're really deep as far as our bench we just have to pick it up, no let downs at all," he said.
Thanglong begin the season away to the Saigon Heat tomorrow, one of two teams Hill reckons will provide their stiffest competition.
"The teams that we're looking at right now that could be competition, as far as Danang, Saigon, those are the two we're really looking at," he said.
It's clear Jaywuan Hill is determined to finish his Vietnamese basketball story his way, no matter who's in his way. VNS
Peter Cowan

The HCM City School Festival Basketball Tournament - the 2019 Milo Cup began at the Phu Tho Stadium in District 11 on Saturday.

The Viet Nam Basketball Association (VBA) is finalising preparations for the new season, its organising board announced at a press conference on Monday.