The Republic of Korea's B-Boy Crew performed at the K-Pop Lovers Festival being held at Dong Kinh Nghia Thuc Square in downtown Hanoi this weekend.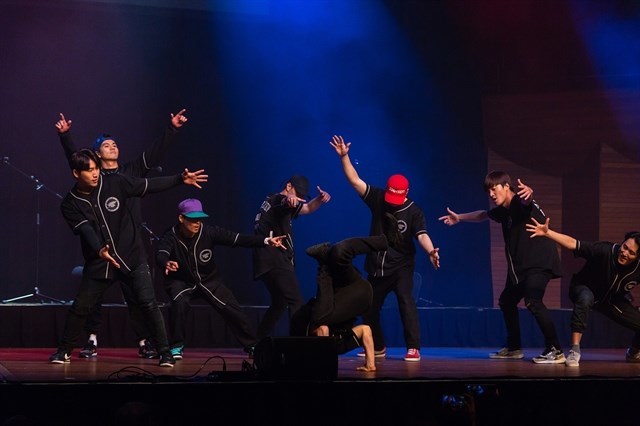 B-Boy Crew (Photo Courtesy of Korean Culture Centre)
The crew promised to light up the outdoor stage with world-class performances. B-Boy Crew was the first Korean boy band to win Battle of the Year twice – one of the largest B-boy competitions in the world held in Germany.
This year's K-pop Lovers Festival continued to attract young people who love K-pop with activities such as a K-pop idol exhibition; flashmob and displays to introduce Korean culture, tourism and cuisine.
"This is the first time the festival has taken place next to Hoan Kiem Lake," said director Park Hyejin. "I hope the festival will be an cool destination for young people who love Korean culture and K-Pop during the first days of summer."
Performing at the festival is Korean GORPHY and Vietnamese singer Min.
The two-day festival includes a contest entitled K-pop World Festival. The event is the most anticipated contest of the K-Pop community in Vietnam. The contest's regional preliminaries are held annually in Vietnam.
It saw the participation of 18 individuals and groups who are final contestants selected from a one-month long qualifying round in Hanoi and HCM City.
The contest organisers will set up a new band from the winners, which will be trained by Vietnamese and Korean professionals before attending the K-Pop World's final round in the Republic of Korea.
It is the 9th K-pop World contest to be held in Changwon in September dedicated to all those K-pop lovers around the world.-VNS