"I just hope for good health so that I can continue pursuing my passion for preserving the traditional culture of the ethnic San Diu people."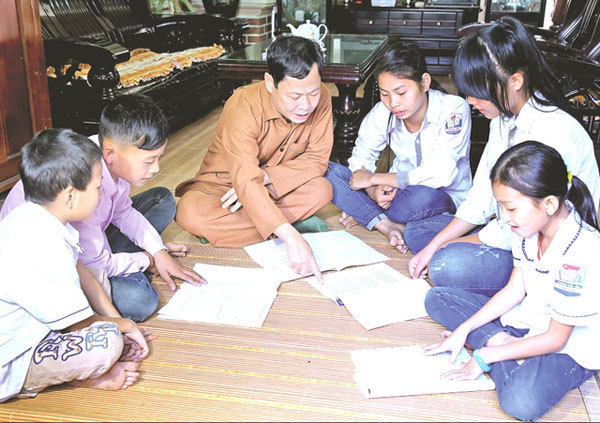 LABOUR OF LOVE: Master singer Le Dai Nam teaching kids how to sing traditional San Diu folk songs. Photo baodantoc.vn
So said Excellent Singer Le Dai Nam, 55, a San Diu man in the northern province of Vinh Phuc's Tam Dao District.
He is continually concerned about the disappearance of his people's traditional culture, and has vowed to "light a fire" among the young in his homeland to study, preserve, and promote the values of the minority's origins.
His love of San Diu culture began when he was just a little boy.
"I still remember quite well my mother singing lullabies, telling stories, and reading poems to me," he said. "She really was my first inspiration. Her charming spoken and singing voice was so easy on my ears that I still know the melody and lyrics of all the songs and the words of all the fairy tales."
Over time, though, the cultural identity of the San Diu has gradually faded away, concerning him greatly and encouraging him to call for more people to contribute to preservation efforts.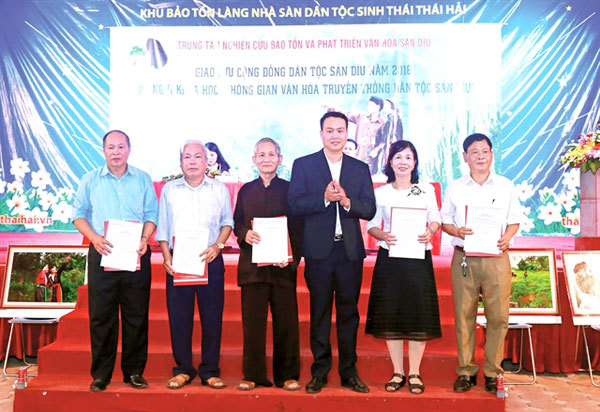 TOP JOB: Nam (far right) receiving a decision making him head of the liaison board of Vietnam's San Diu Folk Clubs. Photo baodantoc.vn
He established a folk music club called Dao Tru in 2010, and from then on poured all of his heart and passion into the task of collecting and promoting his ethnic culture.
His focus has been on researching, compiling, and composing songs, fairy tales, and, particularly, unique San Diu folk tunes called soọng cô.
The research and collections have been printed and distributed free to those wanting to learn.
His two new books -- Thềnh Xèn Cô Songs in New Lyrics and Sán Dìu Folk Songs, released by the Vietnam Writers' Association Publishing House -- attracted much attention, including from young people with a love for traditional ethnic culture.
Both include collections and translations of San Diu poems and love and folk songs. 
Folk songs
For the San Diu, their soọng cô folk songs are a key feature of cultural and spiritual life.
They are truly unique and already stayed alive for hundreds of years. The songs have now been integrated with tourism activities as a new and interesting way of attracting tourists to destinations in Vinh Phuc Province, especially Tam Dao Mountain.
The San Diu Cultural Research, Conservation and Development Centre at the Vietnam Folk Arts Association, in co-operation with the Flamingo Dai Lai Resort in Vinh Phuc, successfully organised the San Diu Cultural Festival last August.
For the first time, soọng cô songs were performed at a large festival and impressed all in attendance.
Organisers said this was a positive sign for the promotion and preservation of San Diu culture.
Tran Thi Nam, another San Diu celebrated singer and head of the soọng cô club Trung Mau, said she was very happy that for the first time she and other artists could sing to tourists at such a big event.
"People were excited to hear our songs, encouraging and inspiring everyone on stage," she said.
Commenting on the performance, Hoang Lan, a visitor from Hanoi, thought the soọng cô songs were amazing.
"The lyrics and melody were quite beautiful," she said. "I didn't understand them, but when I saw the lyrics translated into Vietnamese I thought they were great. I was most impressed by the children performing. They were cute and really inspirational."
Singer Nam is recognised as a good composer and translator of folk tunes.
The theme of his song Ngỏ Duyên Bến Núi (Mountain Love Story) is human love, and it not only won the hearts of the San Dìi but also others who heard it.
Beyond song-writing, Nam also spends a lot of time on preserving the Sán Dìu language. He holds free classes for local kids and youngsters to hear of its history and development. Teaching young people to sing folk songs during language lessons is one way he inspires them to preserve their traditions.
The classes have now been held for several years and are popular among the young of the area.
In talking about his future plans, the master singer revealed: "I will definitely continue the task of presenting San Diu culture to the younger generation, to help them inherit and preserve the heritage their ancestors passed on and guarantee that nothing is lost."
Nam has been selected as head of the liaison board of Vietnam's San Diu Folk Clubs.
His substantial contributions to his homeland and to the San Diu community have seen him pick up awards and receive certificates of merit.
2017 was a milestone in his life, as he attended the first national conference honouring prestigious and outstanding people, intellectuals, and businesspeople from the ethnic minority community.
While there, he received a certificate of merit from the Committee for Ethnic Minorities, in recognition of his valuable contributions to preserving traditional San Diu culture.  VNS

Schools throughout Muong Lo district in the northern mountainous province of Yen Bai have recently implemented a number of measures in an effort to maintain the area's traditional culture for younger generations.

Thai ethnic people in the Northwestern region are renowned for their traditional craft of brocade weaving that has been preserved for many generations.