Soloists from L'Orchestre National de France (The National Orchestra of France) will give a concert at the HCM City Convervatory of Music tonight (May 2).
HCMC Ballet, Symphony Orchestra and Opera to stage concert of chamber music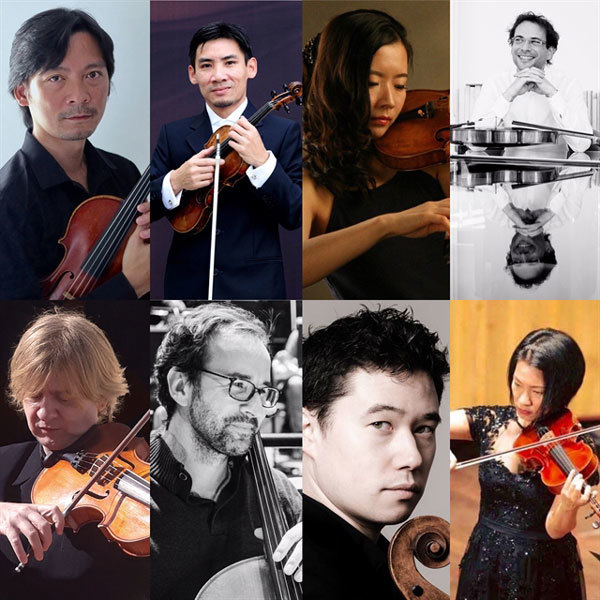 Soloists Nguyen Huu Khoi Nam, Nguyen Huu Nguyen, Kyungwon Baik, Emmanuel Blanc (top left to right), Vincent Filatreau, Pierre Vavasseur Jerome Lefranc, and Le Minh Hien (bottom left to right) will perform at the HCM City Conservatory of Music tonight. Photo courtesy of HBSO
The "Strings Party" concert will feature violinists Nguyen Huu Khoi Nam and Nguyen Huu Nguyen, who joined the orchestra in 1997 and 1999, respectively.
The other musicians will include violinist Kyungwon Baik, violists Emmanuel Blanc and Vincent Filatreau, and cellists Pierre Vavasseur and Jerome Lefranc.
Vietnamese violinist Le Minh Hien and violist Pham Vu Thien Bao, and the string orchestra of the HCM City Ballet Symphony Orchestra and Opera (HBSO) will take part in the concert.
The artists will perform works for strings by Mendelssohn, Brahms and Tchaikovsky, three of the greatest creative artists of the mid-19th century.
The concert will open with String Symphony Number 4, one of 12 string symphonies that Mendelssohn wrote between 1821 and 1823, when he was between 12 and 14 years old.
It will be followed by Brahms's String Quartet Number 2, written in 1873. The four-movement quartet has a final movement modeled on a Hungarian folk dance.
The second part of the night will be String Sextet: Souvenir de Florence, composed by Tchaikovsky in 1890. It was titled Souvenir de Florence (Memories of Florence) because the composer wrote one of its melodies during his visit to Florence, Italy. The composition has traditional four movements, and is for two violins, two violas and two cellos.
It premiered in 1892, a year before the composer died at the age of 53.
The concert will begin at 8 pm at 112 Nguyen Du Street in District 1. Tickets are available at the venue.
VNS