Hoang Anh Gia Lai (HAGL) head coach Kiatisuk Senamuang said his team were lucky to take a fifth win in a row after beating 10-man Nam Dinh 4-3 on Monday in the Central Highlands city of Pleiku.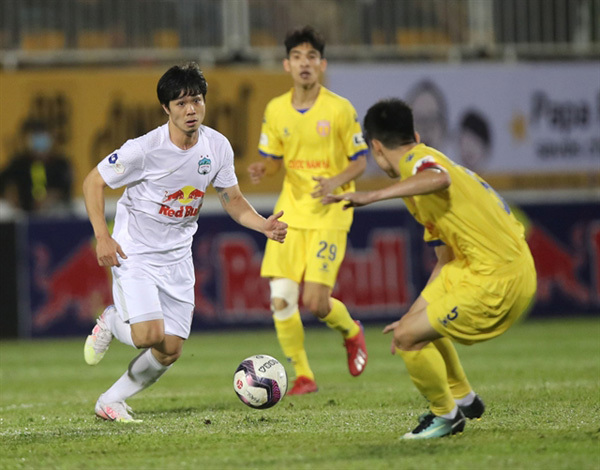 Hoang Anh Gia Lai's striker Nguyen Cong Phuong (left) on the ball against Nam Dinh during their V.League 1 match on Monday. Hoang Anh Gia Lai won 4-3. Photo courtesy of VPF
National team star Nguyen Cong Phuong opened the scoring just seven minutes into the game and then scored a penalty to win the game in additional time. Tran Minh Vuong netted his third goal of the year in the ninth minute while skipper Nguyen Van Toan celebrated his birthday with a penalty in the 28th minute as HAGL raced out to a 3-0 lead.
Toan is the V.League 1's top scorer with six goals and three assists and Phuong is close behind with five.
Nam Dinh, whose defender Lam Quang Anh was sent off in the 70th minute after receiving two yellow cards, roared back with goals from Hoang Xuan Tan at the end of the first half, Rodrigo Da Silva Dias in the 64th minute and Doan Thanh Truong in added time.
However after the equaliser went in, HAGL were awarded the game-winning penalty from their first attack after the restart.
"I told my players about Nam Dinh who are a tough rival through what they showed when playing Becamex Binh Duong in the previous match. And they proved that I was right," said Senamuang.
"I was not happy but really tense when Hoang Anh Gia Lai led three goals to nil in the first half. Nam Dinh were down 3-0 to Binh Duong and they did not give up (before losing 4-3) until the last seconds. 
"Football is sometimes dramatic and players must focus till the end. Anyway, it was a lucky match for us," he said.
The Thai coach also said that conceding three goals in one game was a concern.
Speaking about his double, Phuong said: "My goals and our victory today were for my best friend Toan. We wanted something special to celebrate his birthday. It was a difficult game but our efforts brought a good result."
HAGL are on top of the table with 22 points, three ahead of reigning champions Viettel in second.
Elsewhere on Monday, Hai Phong and SHB Da Nang played out a goalless draw at Lach Tray Stadium.
At Vinh Stadium, Song Lam Nghe An beat Binh Duong 2-0 thanks to a brace from Phan Van Duc, while the national team's top striker Nguyen Tien Linh missed a spot-kick for the visitors. 
Referee controversy
Earlier, referee Nguyen Viet Duan put in a controversial performance in the match between Dong A Thanh Hoa and HCM City FC which ended 1-1.
Lee Nguyen opened the scoring for Alexandre Polking's City side in the 85th-minute but Trinh Van Loi headed in from a free-kick in the closing seconds to ensure the points were shared.
HCM City's players and coaches surrounded the officials to protest the free-kick decision and the five added minutes.
Duan then gave a second yellow card to Polking's assistant Luis Viegas, which did nothing to end the acrimony.
Police were eventually called to escort the officials off the pitch.
At the post-match press conference, Polking said his team deserved all three points and that the officials erred by awarding Thanh Hoa the final free-kick while ignoring many other fouls by the hosts. 
Coaching changes
Hong Linh Ha Tinh will have a change in the hot seat after coach Pham Minh Duc resigned on Monday after his team lost 1-0 to Sai Gon FC on Sunday.
It was their fifth defeat this season and Ha Tinh are at the bottom of the table with only six points.
The club's managers are said to be in talks with former Hanoi FC coach Chu Dinh Nghiem and Nguyen Thanh Cong who resigned from V.League 2 side Quang Nam FC several days ago.
Hanoi are also rumoured to be introducing a new coach in the coming days.
The capital city team are said to have hired South Korean Park Choong-kyun, former coach of Chinese side Tianjin Tianhai FC, a club which was recently disbanded because of heavy debts.
VNS

Sacked after just three matches in charge, Japanese coach Masahiro Shimoda is the latest foreign coach to struggle in the V.League 1.

Local football star Cong Phuong has been named as the top Vietnamese goal scorer following the conclusion of the latest V.League 1 season.