A show featuring rock ballads will be performed by artists from the Vietnam National Opera and Ballet (VNOB) for the first time at Hanoi Opera House on Thursday and Friday.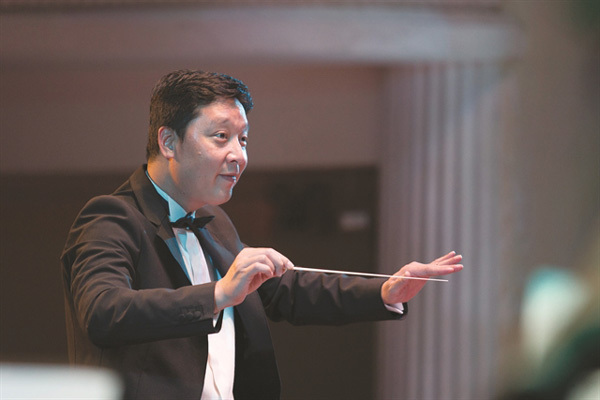 Vietnamese expatriate conductor Le Phi Phi returns to Vietnam for a rock symphony show on Wednesday and Thursday at Hanoi Opera House. Photo courtesy of organisation board
The show, entitled We Are The Champions, will rock audiences with popular pieces by Elvis Presley, Boney M and Queen.
Armed with a new style, timeless tunes including Bohemian Rhapsody, We Will Rock You and We Are The World will be played in the spirit of rock 'n' roll, incorporating modern instruments as well as an orchestra and a choir.
The pieces have been carefully selected by conductor Le Phi Phi to ensure a spectacular and unforgettable night.
Under the baton of the conductor, artists from the VNOB and rock musicians promise a combination of the modernity of rock and the classical elegance of symphony.
"It is interesting to sing rock pieces," said opera singer Trịnh Thanh Binh. He will sing German band Scorpion's Still Loving You.
"This piece is very popular with meaningful lyrics. I like the words."
To sing the piece, Binh spent time watching videos of Scorpion's performances as well as those by other groups.
Binh is one of VNOB's leading artists. He has performed in La boheme, Carmen and The Magic Flute.
Young artist The Tung Lam has the chance to challenge himself with rock music. He will sing British band Queen's Who Wants to Live Forever and Barcelona by songwriters Freddie Mercury and Mike Moran.
"First, I thought it was strange for opera artists to sing rock," Lam said. He had never listened to rock before.
"This is a chance for me to get to know rock music. I had to listen to the music to prepare for the concert. I didn't like it at first, but it grew on me."
The show will include performances by rocker Anh Khoa, Black Long band and guest guitarist Tim Tran.
Rocker Anh Khoa is known for his performance at the Sao Mai Television Singing Contest in 2006. The contest is one of the country's most popular song contests, held by Vietnam National Television.
Guest guitarist Tim Tran came second in Melbourne's Got Talent for students last year. He is studying composition and music production at Melbourne Polytechnic in Australia. His teacher is Northern Irish singer-songwriter Andy White.
Conductor Phi graduated from the world famous Conservatory of Music P. I. Tchaikovsky.
During his time living and working abroad, he has toured many countries and worked with many European orchestras such as Belgrade Radio and Television Orchestra in Serbia; Dance Orchestra of Tchaikovsky Conservatory in Russia and the Jyvaskyla Sinfonia Orchestra in Finland.
Phi has often returned to Vietnam to perform and collaborate closely with local orchestras, such as the Vietnam National Symphony Orchestra; the VNOB and Ho Chi Minh City Opera and Ballet Theatre.
He is also a bridge between Vietnamese artists living and working abroad with domestic performing companies.
On returning to his homeland, he decided to join the VNOB bringing a breath of fresh air to Vietnamese audiences with Rock Symphony - We Are The Champions.
"We want rock fans to learn more about classical music as well as bring classical music enthusiasts closer to rock," said VNOB's acting director Tran Ly Ly.
The show will begin at 8pm on Thursday and Friday (Jan 9 &10). Call 097 7377456 for ticket information. VNS
Big hits by Vietnamese and international musicians from the 90s will be performed at a concert on November 9 in Hanoi.

Conductor Le Phi Phi is Vietnam's own classical music artist whose name has become popular throughout Europe.