Christmas is coming to town! More than 20 young people celebrated an early Christmas by attending a sign language class themed 'Silent tour' in a cozy café in Hanoi on Sunday night.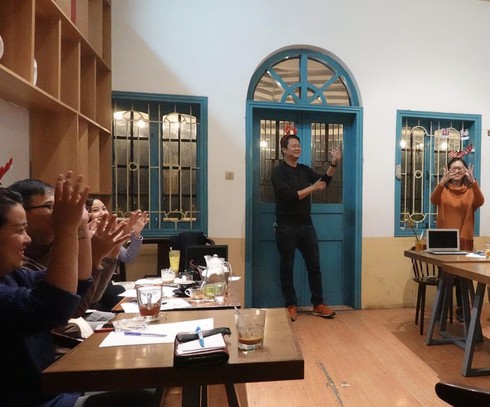 Deaf teacher Do Hoang Thai Anh (in black), the founder of the Hanoi Association of Sign Language Interpreters, conducts the class.
Let's visit this exciting class, held by the Hanoi Association of Sign Language Interpreters, which aims to bridge the gap between the deaf and the hearing.
Many class attendees were students of sign language classes held by the Hanoi Association of Sign Language Interpreters. They were invited to come to  J.O.Beans Coffee to celebrate Christmas with the association.
Established in 2004, the association only offered one sign language class initially. It has since opened several more classes because of  increasing demand from students, regardless of whether they can hear or not.
As it was a  chilly night, most people ordered warm beverages like hot coffee and tea at the first floor before heading to the class. Tables and chairs were placed in a U-shape.
Pens and papers were handed out before the class began. The association founder, deaf teacher Do Hoang Thai Anh conducted the class with two assistants who helped him interpret the sign language.
As Christmas was coming, all of the class activities related to the festive holiday! Thai Anh used his hand gestures, body language, and facial expression to sign 10 words.
After seeing his sign language, the participants wrote down the words they thought he signed. Christmas tree, Santa Claus, snow, reindeer, and snowman were the 5 most correctly guessed words  whether the attendees had learned sign language before or not.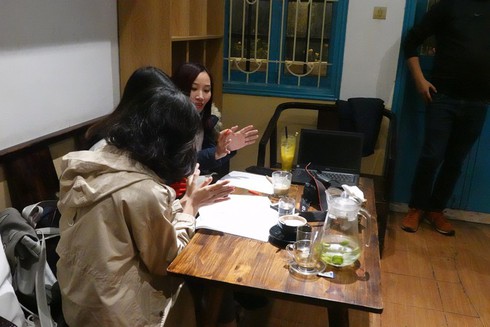 At a group discussion
Word guessing games was the activity that university student Bui Phuong Thao most enjoyed. She said, "Guessing words is really interesting. It is quite engrossing, requiring all of us to watch closely. It helps me develop my visual references and imagination."
The next activity was acting "The Little Match Girl", a short story by Danish poet and author Hans Christian Andersen. Class was divided into 3 groups, each having a script of a part of the story. Their tasks were to use sign language to retell the story.
They were all encouraged to use facial expressions, gestures, and body language to express unfamiliar words and phrases.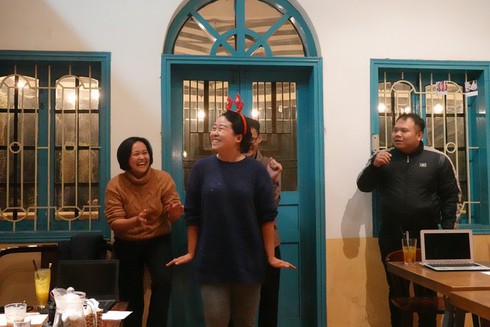 A group retells "The Little Match Girl" using only sign language
The "Silent tour" wrapped up by learning the sign language for the lyrics to "We Wish You a Merry Christmas". Besides having fun and gaining knowledge, participants got thank-you notes and small gifts at the end of the event.
The "Silent tour" is not the first event that the Hanoi Association of Sign Language Interpreters held to enhance public awareness of sign language.
Having been a teacher's assistant for a wide rage of events like this, a student of the Vietnam National Economics University with a lovely nickname "Fox" said she first learned sign language out of curiosity.
She soon realized that it is an amazing language, helping her develop body movement and visual thinking. Fox thought it was  a great pity that it is not more widely used.
"Many people attending events like this became  students of the Association, then  sign language interpreters. That's one of the things making me really happy when I work here as an assistant. I believe if more people know sign language, there will be more opportunities for the deaf community", Fox said.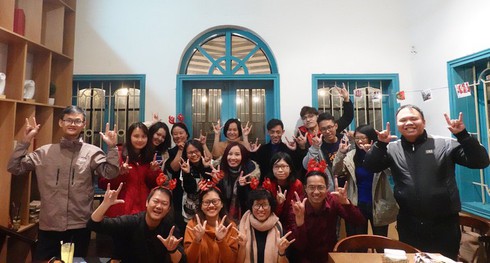 The whole class sign "I love you" at the end of the Silent Tour
Pham Bich Giang, manager of the Hanoi Association of Sign Language Interpreters said that people of all ages can learn sign language. The youngest student of the association is 14 and the oldest is 60 years old. The majority is from 18 to 35 years old.
All the teachers are deaf. They are trained with pedagogical skills, having more than 2 years of experience teaching sign language for the deaf and for hearing people.
Giang said, "Besides classes with a flexible timetable, the association offers free lessons at events like this so people can gain first-hand experience with  sign language. We also have free one-and-a-half-hour lessons for companies and organizations wanting to help their staff get to know this language. I hope that more and more people will become interested in learning sign language." VOV5