Vietnam's No 1 chess player Le Quang Liem advanced to the FIDE World Cup's third round in Russia on Sunday.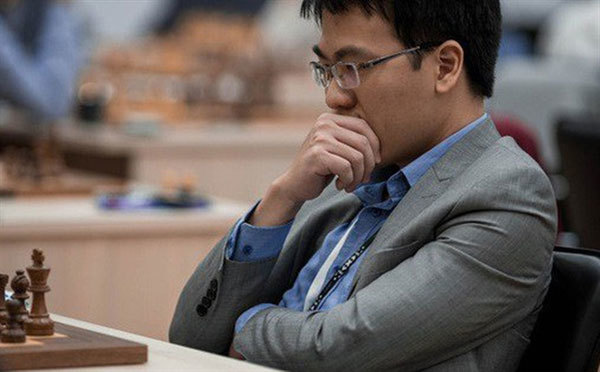 Vietnam's No 1 chess player Le Quang Liem. — Photo soha.vn
The HCM City-born player (Elo rating of 2726) defeated Anton Korobov of the Ukraine (Elo 2679) after 79 moves in the second leg. Earlier, Liem tied with Korobov in the first leg.
Liem beat Korobov 1.5-0.5 to reach the third round.
Earlier, former world blitz champion Liem beat Aleksandrov Aleksej of Belarus.
As one of 32 competitors in the third round, Liem will earn a US$16,000 bonus. He will next play defending European champion Vladislav Artemiev of Russia, who has an Elo rating of 2757.
The Chess World Cup 2019 is a 128-player single-elimination chess tournament held in Khanty-Mansiysk from September 9 to October 4, 2019. The finalists of the tournament will qualify for the Candidates Tournament for the World Chess Championship 2020.
The matches from round one to round six consist of two classical games with time control of 90 minutes per 40 moves plus 30 minutes for the rest of the game, with an increment of 30 seconds per move. The finals and the match for the third place consist of four classical games.
The total prize fund is $1,600,000, with the first prize of $110,000.
In other news, Vietnam topped the medal tally of the World Rapid & Blitz Chess Championships which concluded in Salobrena, Spain over the weekend.
Vietnam brought home four golds, five silvers and two bronze medals to take the lead. Spain were runners-up with three golds, while Holland finished third with two golds.
Notably, Nguyen Thien Ngan won two golds in the blitz and rapid chess category of U14 female division, while Vo Pham Thien Phuc won gold medal in the blitz event of U14 male and Bach Ngoc Thuy Duong bagged gold in the U16 female category of blitz chess event.
The tournament attracted the participation of 183 players from 23 countries. Vietnam sent 14 players to compete in the tournament.
VNS