Football legend Hong Son believes Vietnamese players are still a long way off from plying their trade at elite European clubs.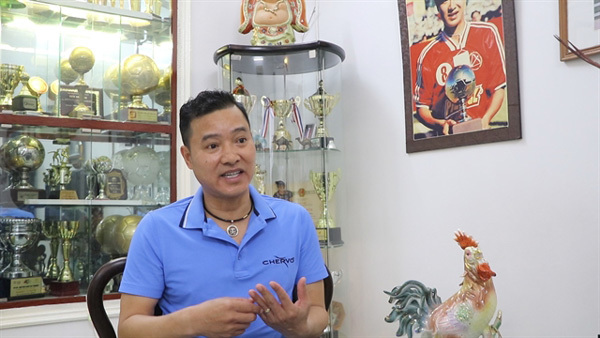 Nguyen Hong Son, one of Vietnam's greatest footballers. — VNS Photo Paul Kennedy

He says that the domestic game is improving rapidly and one day a local-born star could be rubbing shoulders with the world's best
Son, who played 48 times for Vietnam, is still regarded as one of the country's greatest ever players. He made 401 appearances for Thể Công Army Team), scoring 58 times, and won two V.League medals in 1990 and 1998.
Son feels for a Vietnamese player to follow in the footsteps of South Korean's Son Heung-min and Japan's Takumi Minamino who play in the English Premier League for Tottenham Hotspur and Liverpool respectively, local-born players need to first play elsewhere in Asia, like goalkeeper national team goalkeeper Dang Van Lam for Muangthong United in the Thai League.
"In the near future, Vietnamese players need to play well in other countries like the Thai League, South Korea or Japan," he said.
"Only when they play well and are recognised by those leagues and become important players of those tournaments can we hope to export players to European countries like the Netherlands, Belgium, Germany, England or Spain like the Korean and Japanese players who are succeeding in Europe."
One player who has made the move to Europe is defender Doan Van Hau, who is on loan from Hanoi FC at SC Heerenveen in the top Dutch league.
The 20-year-old has played only once in the first team, and that was a substitute appearance in the final few minutes.
Son added: "I have to say that Vietnam is in an area that has been considered the lesser-known area of world football - Southeast Asia.
"Vietnam has only been making efforts in recent times with a vision towards the coming years.
"The goals set have to be in the right direction and we cannot rush. Vietnamese people are not big in body size, are not as strong as foreign people or have any special ability.
"In my opinion, we still have a lot of hope, such as Doan Van Hau as he has a good height, you have to have at least such a physical strength like that to be able to play with the players in Europe."
But for now, Son believes there is still a lot of work to do to develop the game in Vietnam so standards can be raised.

Women still playing catch-up
Vietnamese women's football has come on leaps and bounds in recent years, with the team winning Southeast Asian (SEA) Games' gold for the sixth time last year.
But according to Son, female football is still a few years behind the men's game in terms of sponsorship and financial resources.
"The last SEA Games marked the first time in history women's football and men's football both winning the SEA Games gold medal," he said.
"Of course, the achievements of the Vietnamese women's team are unrivalled. They have participated in Asian championships and achieved very high results.
"However, it is clear that women's football has not received much attention from sponsors or fans. With the support of the media and with what Vietnamese football has done, after one, two or three years, closing the gap with men's football in terms of access to income sources or qualifications will be absolutely possible."
And he believes the country is still playing catch-up in comparison to other Asian nations.
"Vietnam has experienced wars and backward years, the economy has not really developed compared to some other countries in the region, so dreaming of having players competing in Europe like other countries like South Korea, Japan, Iran, Iraq, Uzbekistan or Australia is still very difficult," Son said. VNS
Paul Kennedy and Vu Thu Ha

The Vietnam national football team have received VNĐ5.6 billion (US$243,400) from the Vietnam Football Federation (VFF) and enterprises for their result in the 2022 FIFA World Cup's second qualifying round.

The Vietnamese female football players became the champion of women's football at the 30th Southeast Asian (SEA) Games in the Philippines after defeating Thailand 1-0 on December 8.

Beating Indonesia to take SEA Games' gold medal after 60 years of waiting, Vietnam National U22 team have got a big bonus.