A festival to celebrate love and marriage will be held in the central coastal city of Sam Son of Thanh Hoa Province by local authorities as a special tourism product for the locality.
Titled Love Festival – Hon Trong Mai (Male-Female Birds Stones) 2021, the event aims to praise the cultural value of the Male-Female Birds Stones, to celebrate love and family happiness.
Located in Truong Le Mountain, in Truong  Ward, Sam Son City, the Hon Trong Mai is a significant natural landscape of the city, which has attracted many visitors.
Various activities are set to take place including an exhibition of orchids and bonsai between March 30 and April 4 at the square in front of the landscape; a singing contest on April 3 and 4 at the site; a collective wedding for dozens of couples and the crystal, gold, silver and copper wedding anniversaries for couples.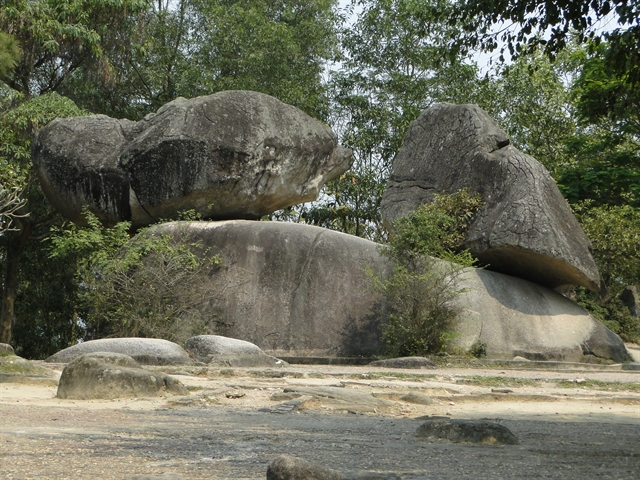 The Male-Female Birds Stones in Thanh Hoa. — Photo dulich24.com.vn
A beauty contest on April 5 and 6 will also be a highlight while a cuisine market will be available between April 4 and 8.
The first of this kind of event was held in 2019.
The Male-Female Birds includes three stones: a big one behind is a foundation while the other two look like a rooster and a hen. The landscape was recognised as a national-level relic landscape site in 1962 by the culture ministry.
Legends say that in Sam Thon region (today's Sam Son City), there was a young man named Ngu Phu. One afternoon, when he returned from a fishing trip at sea, a strong storm emerged and a white fragile stork fell down at his feet. He took the stork home to care for it.
It turned out that the stork was a fairy and daughter of the God of Heaven, and should have returned to the fairy world after her time as a stork. She turned into a beautiful woman and decided to stay on Earth forever.
Later that day after returning from the sea, Ngu Phu was surprised to see his house tidied and dinner ready. He was disappointed at first to see no trace of the stork. But then, she stepped out behind the door as a woman and they soon married.
The God of Heaven was extremely angry as his daughter did not return and married an ordinary man on Earth. He sent a soldier to bring her home.
Ngu Phu advised her to return to Heaven but she insisted on staying with him. She turned them both into a pair of birds. When the soldier from Heaven to catch them, the birds turned into two stones. The stones were then named the Male and Female Bird Stones and are regarded as a symbol of loyalty, love and desire for happiness. — VNS
The Ministry of Culture, Sports and Tourism has recognised the annual Quan The Am (Avalokitesvara Bodhisattva) Festival in Da Nang's Ngu Hanh Son District as National Intangible Heritage.