When percussionist Tran Xuan Hoa walks down the street, he keeps his ears open to all the sounds around him. 
Every noise, from the pitter-patter of footsteps on the pavement to the revving of a motorbike engine, has the potential to inspire him to create a special percussion performance.
Top Vietnamese percussionist to perform the hang drums
Percussionist Hoa to perform music inspired by mountainous region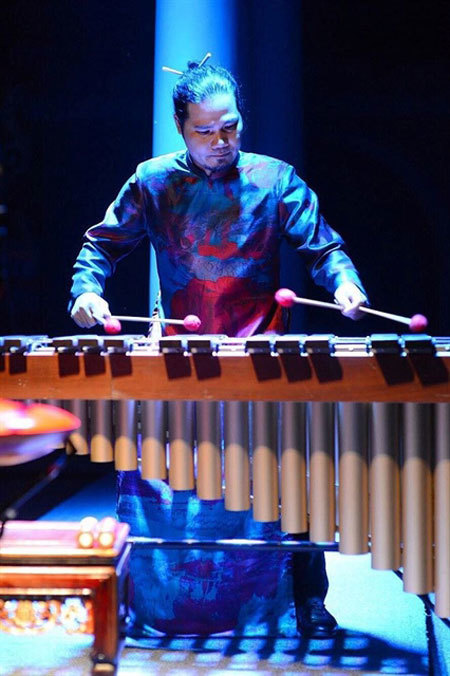 Percussionist Tran Xuan Hoa works hard to develop innovative performances using a wide array of instruments from around the world. Photo courtesy of the artist
Hoa is a rare percussionist for his ability to perform solo acts. He has a collection of hundreds of instruments from countries around the world, including special drum sets he made from ordinary objects like used cans and bottles.
Hoa is popular at concerts held at culture and arts centres in Hanoi like Heritage Space, Manzi Art Space and L'Espace. He also performs abroad with the ASEAN Orchestra.
After a performance at the Heritage Space, accomplished jazz musician Paul Zetter expressed his appreciation for Hòa's music.
"There's something magical about the sound of the marimba," said Zetter. "It's as though all the tropical rain soaked up by the rosewood tree from which its wooden bars are made is reincarnated in sound. Hoa knows how to make the marimba speak this way."
Hoa was born in 1979 in the northern province of Nam Dinh. At the age of 17, he started studying at the National Academy of Music. At first he chose to study guitar, but his teachers soon discovered his talent and asked him to move to the percussion faculty.
After graduation, he decided to go to Singapore to continue his studies. He returned in 2010 and worked with the Viet Nam National Symphony Orchestra (VNSO) then Viet Nam National Opera and Ballet Theatre (VNOB).
However, he couldn't shake a feeling of boredom. He soon realised that percussionists always play a supporting role in the orchestra. During each concert, the conductor selected one violinist, pianist and cellist to perform a solo but the percussionists were never highlighted.
Seeing percussionists perform solo at concerts abroad, Hoa nurtured a dream that one day he could master the stage in Vietnam.
"I pondered that why percussionists in foreign countries could have their own live shows and Vietnamese percussionists could not," said Hoa.
"I dreamed of a stage for percussion in Vietnam. Percussion can express all the tunes, stories and emotions of a song. Vietnamese audiences should have a chance to enjoy that kind of art.
"Percussion has separate rhythms, melodies and stories. I have tried to understand the language of the instrument and inspire other people."
Hoa worked tirelessly for more than 10 years on his dream. He wrote songs exclusively for percussion to convey his hopes, fears and stories.
But he knew he could not succeed without the support of his lecturers. Conductor and musician Pham Hong Hai understood Hòa's determination. One day, Hai asked if Hoa was confident enough to perform along on the VNOB stage. Hoa knew this was his chance.
Over the course of the next year, Hai hosted many free concerts to give Hoa an opportunity to practise.
"They were just mini concerts with free entrance, but I understood the feeling of performing solo in front of audiences," said Hoa.
The percussionist told Hai he still wanted to perform at the Ha Noi Opera House. Hai smiled and told Hoa that if he kept working, he would find his own way to the big stage.
"One day, Japanese conductor Yoshikazu Fukumura who had performed with the VNOB several times said he wanted to establish the ASEAN Symphony Orchestra, which consists of musicians from ASEAN nations. He asked me if I wanted to join," said Hoa.
Hoa cried tears of joy because he knew his life was about to change.
With the new orchestra, Hoa became more confident in his career. In 2010, with some friends, he founded Gõ Group to gather percussionists who deliver independent melodies with both traditional and non-traditional instruments.
This was the first group of percussionists in Vietnam to perform independently on stage. They have impressed audiences with their unique style of performance. They use a diverse range of instruments such as the marimba, xylophone, vibraphone, campana and castanets, many of which come from indigenous cultures across Africa and the Americas. They even find ways to use beer cans, metal containers and pieces of wood.
One of their most successful pieces is Music on Table. Four artists sit around a table and create music by beating on its surface and other pieces of wood. Audience member Bui Anh Tuan, 33, said he was impressed by the performance.
"They create a wide range of sounds. I now understand that music is everywhere, we just need to find it," said Tuan. "Creating music from normal objects is really an interesting experience and a challenge for the audience."
Gõ Group has been invited to perform in the US and other countries. Abroad, they often fill theatres of up to 1,700 seats; however, in Vietnam, having a few hundred people in the audience is considered a success.
Creativity for community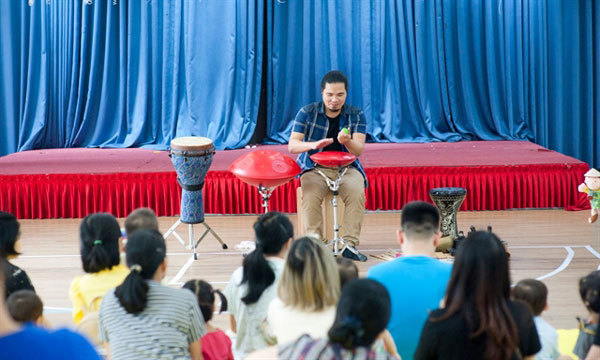 Tran Xuan Hoa considers the audience his motivation to create new sounds and music. Photo courtesy of the artist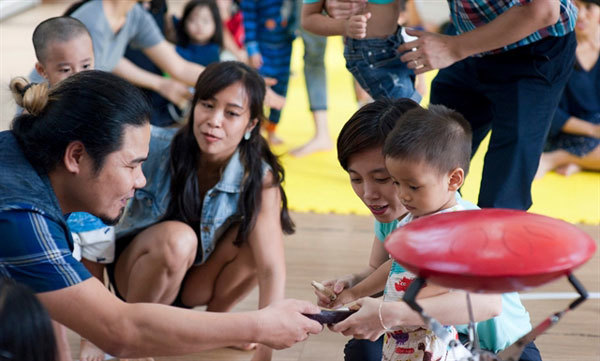 Hoa hosted a workshop for families where parents and children could learn to play music together.
Hoa and his group are determined to make percussion more popular through creative, enjoyable performances that offer a new experience for audiences.
Hoa has received support from various artists such as vocal lecturer Dang Chau Anh, musician Vu Nhat Tan and pianist Pho An My.
My invited Hoa to join her live show Gió (Wind) in 2016, giving him a chance to once again shine on the stage with his unique percussion.
"I like Hoa because of his enthusiasm," said My. "Despite having the appearance of a rocker, Hoa is actually gentle. But when he performs on the stage, he seems to be another man, decisive and strong as a burning fire."
Dubbed a magician of percussion, Hoa has never stopped finding innovative ways to perform. Recently, he spent months in the northern mountainous region to research the traditional instruments of the local ethnic minority people.
"I spent the Lunar New Year celebration with the local people," said Hoa. "Their music is very special, embracing the soul of forest and mountain. I want to bring that spirit into my percussion."
"For me, art is for people. Everything I have done is dedicated to the audience."
Hoa is grateful for the audience. He knows he will not make much money from ticket sales, but he is motivated by the presence of the audience.
"I can't live without the stage and audience," he said. "When I perform, I am on cloud nine."
During the performance, Hoa always tries to get audience involved. He invites them to follow the beat. He believes participating will help people understand and love his music.
"Sometimes they feel interested when they can create sound and music from normal objects," he said.
"Once I hosted a workshop for families where parents and children learned to beat drums together. Some of them were toddlers. They had a wonderful time, and I did, too."
Hoa's biggest fans are his wife – a pianist – and his daughter.
"My daughter says that I am her idol. She feels proud when her friends said that they saw me on the TV," Hoa said. "I think her joy is the motivation for me to keep trying."
VNS